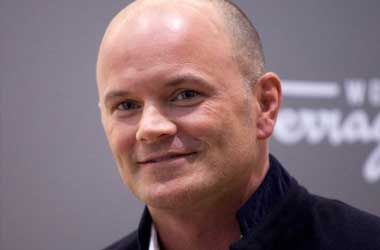 Hedge-fund manager Michael Novogratz has recently opined that he anticipates Bitcoin to rally another 30% before the end of 2018. Novogratz further stated that he anticipates further inflow of funds into the crypto market from institutional players soon after Bitcoin breaks above $6,800, $8,800, and $10,000.
While participating on CNBC Fast Money previous Friday, Novogratz asserted that large funds such as Goldman Sachs and ICE are creating the fundamental infrastructure and appropriate solutions for institutional participation.
Goldman Sachs has earlier revealed that it is building a custody solution for crypto currencies. While NYSE parent, Intercontinental Exchange (ICE) of late indicated that it is designing the Bakkt platform to improve crypto liquidity.
While describing the importance of the platform, Novogratz said
"It's also a bull market in institutions building the infrastructure needed for real money investors to start investing in this space… I think that in three to six months from now, there will be an "all clear" sign for people — big institutions and pension [funds] — to start investing."
Michael Novogratz provides details of institutional involvement
While giving the interview, Novogratz revealed that a dominant institutional investor has already pooled in money in a Bitcoin Hedge Fund. However, Novogratz denied to provide the details of the investor and stated that they are one of the most powerful 'endowments'.
Similar to the retail FOMO that happened at the end of 2017, there will be an institutional FOMO. Novogratz said
"It won't go there ($20 trillion) right away. What is going to happen is, one of these intrepid pension funds, somebody who is a market leader, is going to say, you know what? We've got custody, Goldman Sachs is involved, Bloomberg has an index I can track my performance against, and they're going to buy. And all of the sudden, the second guy buys. The same FOMO that you saw in retail [will be demonstrated by institutional investors]."
Novogratz also opined that in the next three-to-six months, he anticipates institutional funds to begin flowing into the crypto sector. Furthermore, he believes that by the end of Q1 and Q2 of 2019, there will be quite a lot of cryptocurrency products in the marketplace to promote institutional participation.
"I think it's going to happen we're talking to lots of them and at that point, you know the sky's the limit."
Novogratz – Cryptocurrency market at a classic bottom
While talking at the All Markets Summit last week, Michael Novogratz stated that the prices have seen their bottom and the crypto market has reached a "seller fatigue". Michael Novogratz, a Bitcoin advocate, has launched his own cryptocurrency named merchant bank Galaxy Digital.
At the summit, Novogratz also revealed that the Galaxy Digital's cryptocurrency index has reached a "classic bottom", down 80% from its peak. He said, "Bitcoin has held $6,000. Yes, it is off its highs, but it has established itself as a store of value."