China's CCID (Qingdao) Blockchain Research Institute, jointly with the CCID ThinkTank, a subsidiary of the China Electronics and Information Industry Development Institute, and the China Software Testing Center made a detailed assessment of public blockchain networks and published the official cryptocurrency ranking list yesterday. The list raised eyebrows of cryptocurrency investors as four of the top five cryptotokens in the list published last month have gone down in the rank list. The gorilla of cryptocurrencies, Bitcoin, lost four places to reach 17th position.
While Ethereum (ETH) lost its numero uno position to EOS (EOS) by a margin of 23 points, Steem (STEEM) fell by five places to reach the seventh position. Notably, Steem scored only 104.50 points, compared with 115.9 points last time. The points are given based on basic technology, applicability and creativity. Likewise, Lisk (LSK) and Komodo (KMD) dropped to fifth and 16th rank, from third and fifth place, respectively. NEO (NEO) stood apart by moving up a place in the rank list to reach the third place. NEO also improved its overall score to 109 points, an increase of 6 points from last time. Similarly, Ethereum Classic (ETC) moved up by one place to reach the 15th rank. Ripple (XRP) jumped eight places to ninth position with a score of 102.9. Other major cryptocurrencies, which were pushed downwards are Cardano (ADA), IOTA (IOTA), and Monero (XMR).
Regarding EOS (EOS), which launched its mainnet earlier this month, CCID said
"It has outstanding technical advantages in transaction confirmation efficiency, network throughput, and transaction costs. Although there were some accidents such as short-term delays, it is highly active in technological innovation and the software is updated quickly, making it most closely-watched new public chains."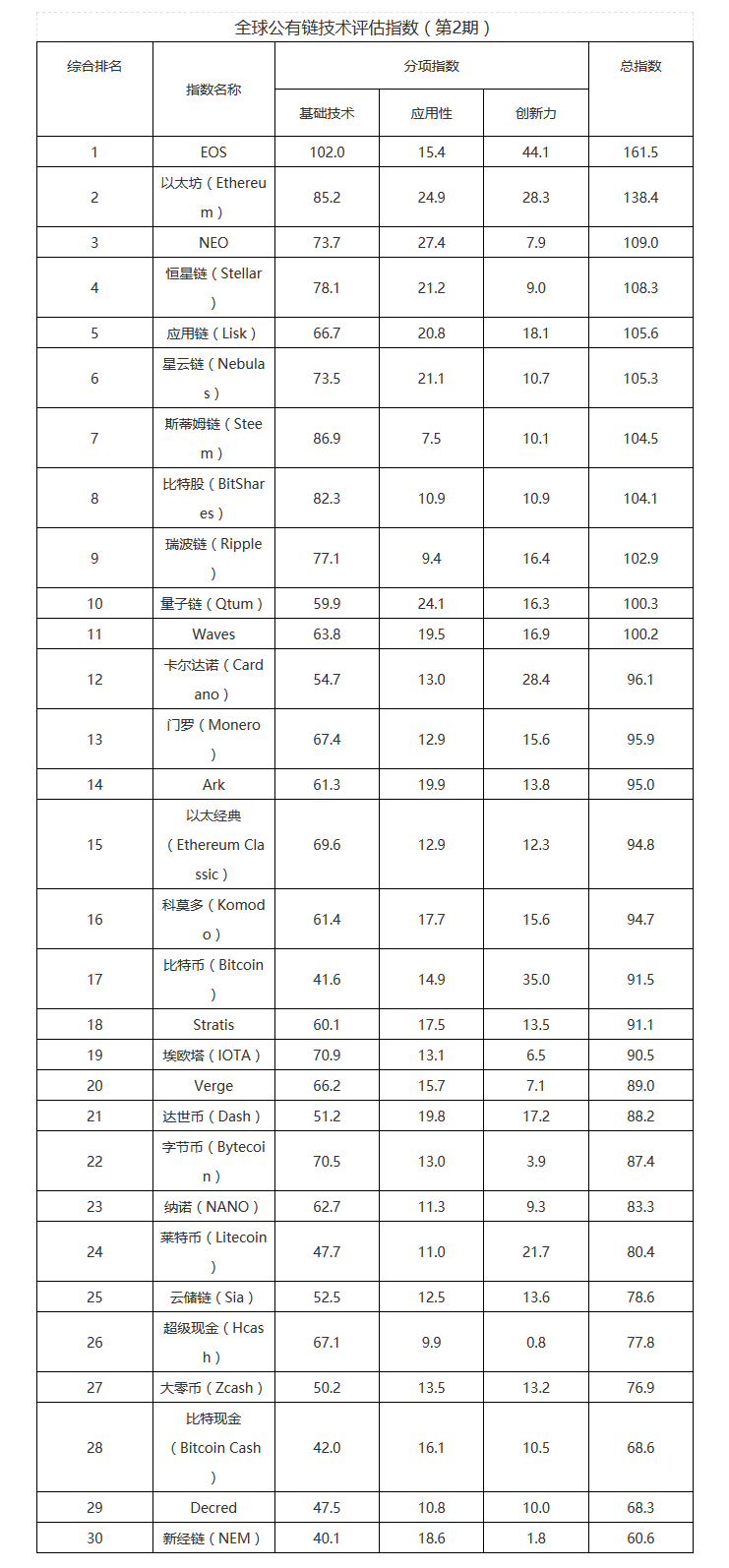 The drastic change in the rankings was explained by CCID as an outcome of better optimization to reflect the ease of development and security assessment. CCID, however, pointed out that the basic method of validation has not changed. A close look at the rankings indicates that the research team does not give priority to the level of decentralization. The most decentralized crypto tokens have received lower rankings, while the most centralized currencies have received a higher ranking.
The CCID report, released at a forum hosted by the Blockchain Research Institute, also says that the ranking list have received unanimous appreciation from industry experts. Li Jiang, Microsoft's China CTO, who was present at the time of release of the report, opined that blockchain could considerably improve efficiency. Bai Shuo, a former engineer at the Shanghai Stock Exchange, said that blockchain engineers should look at other aspects of a network instead of merely concentrating on transactions per second.