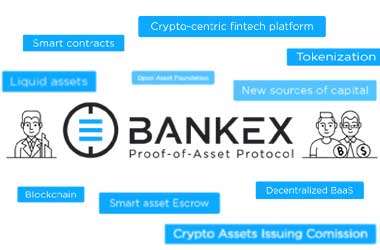 Instagram is a great way to share a person's world view with friends, relatives, and everyone else in the world. Moreover, Instagram also enables earning money on photos. With 800 Million users in 2017, Instagram generated $4 billion in revenue in 2017. By 2019, the digital content website is predicted to generate ad revenue over $10 billion. However, there is a huge income inequality between bloggers. To an advertiser, a blogger with less than 100,000 subs can be sometimes more appealing than an account with over 1 million followers. That is where Bankex comes in.
How can Bankex assist bloggers and advertisers?
Through the MediaToken project, BANKEX presents a new service for tokenization of the Instagram accounts and a way to profit from possible future advertising endorsements. Bankex' service allows bloggers to promote their account and earn more from advertising sales. In the meantime, it enables investors to invest money in the account at the early stages of development and receive advertising space in the hyped-up account or earn dividends. The team behind Bankex believes that using block chain technology, the market of the industry can become civilized. Turismospain is the first Instagram account to use the facility.
Before the arrival of MediaToken, there was no platform to provide a fair and transparent market for bloggers and advertisers. MediaToken intends to change this by performing a transparent validation of any Instagram account and displaying the possible funding it may attract in the future.
How do Bankex works?
Any interested user of Instagram can put his account on the block chain, a process which the company calls as tokenization. The block chain network would validate the account and provide details of possible investments the account may be able to attract in the future. That will be followed by the issue of MediaTokens and listing on Bankex Exchange. Investors across the world will be able to purchase the tokens.
Details of Bankex block chain
Bankex Proof-of-Asset protocol (PoA) is a standard that enables a new generation of assets and contracts creating Decentralized capital markets. Bankex is building Internet of Assets (IoA) on the principles of Bank-as-a-Service (BaaS), powered by Internet of Things (IoT) and Artificial Intelligence (AI) technologies. PoA protocol is open for 3rd party fintech providers, AI and IOT labs, traditional financial institutions and asset owners. Bankex facilitates tokenization of any asset that generate or be able to generate cash flow. The Protocol operates in 4 main stages: digitization, tokenization, asset trading and dealing.
Who can use Bankex' MediaToken?
MediaToken is both beneficial for bloggers and investors.
Other details regarding Bankex:
BaaS projects – 9 banks
Strategic partners – 17
Early token holders – 77
Bankex Lab project clients – 3,500+
Fintech deals in 2017 – 100,000+
Bankex is creating a transparent capital market for Instagram advertising. The facility will provide clean and clear pricing of advertising in Instagram. It has invited cooperation from bloggers and advertisers.