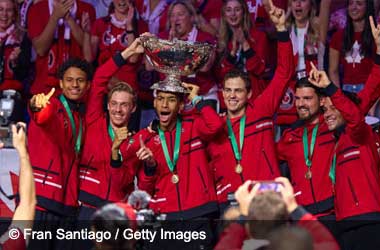 Summary
Canada created history by winning their first ever Davis Cup Championship
PM Justin Trudeau tweets and congratulates Team Canada
David Cup win will give tennis a much needed boost of popularity in Canada
The 2022 FIFA Football World Cup is currently taking place in Qatar and is the biggest sporting event in football. Tennis does not have a World Cup and the closest thing equivalent to the World Cup is the Davis Cup.
Canada started playing the Davis Cup back in 1913 but hasn't been able to win a Davis Cup Championship in over a century.
Canada Win First Davis Cup Title
Canada broke that jinx on Nov 27 when they created history by beating Australia in Malaga, Spain to secure their first Davis Cup Championship. It was a truly remarkable victory for Team Canada as technically they should not have been playing in the finals after they lost a qualifying tie to the Netherlands 0-4 in March 2022.
However, Canada received a pass after defending champions Russia was banned from the tournament due to the Russian invasion of Ukraine. Russia's disqualification gave Canada another chance and they grabbed it with both hands.
Canada had a tough road to the championship as they faced Germany in the quarter-finals on 24 Nov and got past them to face Italy in the semi-finals on 25 Nov. They beat Italy to face Australia in the finals and went past Australia after they won both their single matches.
Canada did have some things go their way as Germany was weakened by the absence of Alexander Zverev who won Olympic Gold while Italy did not have two of their top singles players as Matteo Berrettini and Jannik Sinner were missing in action.
Australia were without one of their biggest stars as Nick Kyrgios was out which made the road to victory a little easier for Canada.
Canada will be pleased with the performance of Denis Shapovalov who beat Thanasi Kokkinakis 6-2, 6-4 and Félix Auger-Aliassime who defeated the top ranked player in Australia Alex de Minaur 6-3, 6-2.
Canadian PM Congratulates Team Canada
Prime Minister Justin Trudeau sent out a congratulatory tweet to Team Canada congratulating them on creating history with their first Davis Cup Championship.
This win will give the game of tennis in Canada a much needed boost in popularity and motivate a lot of young Canadians to play and bet on tennis!
History was made on the court today – Canada has won its first-ever #DavisCup title. Bravo, Team Canada! https://t.co/67NMIDfE3Y

— Justin Trudeau (@JustinTrudeau) November 27, 2022