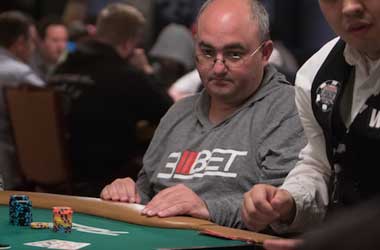 Ken Strauss, the poker player who went viral for his wild antics during the 2019 World Series of Poker Main Event has been taken to court on terrorism charges.
Ken Strauss made a scene during Day1C of the $10,000 buy-in Main Event when he threw his shoes on the table after going all-in and exposing his hole cards.
He was quickly escorted away from the room with his $10,000 buy-in being forfeited.
Strauss' misbehaviour did not end there though, as later in the night, he stood on a craps table at the Luxor and dropped his pants. He was arrested for his act.


joeingram1
Just recently, the Pittsburgh native once again found himself in big trouble after making a series of posts on Twitter, referencing the Las Vegas shootings.
In one tweet, Strauss talked about destroying all the casinos that banned him. In another post, Strauss expressed joy at seeing dead children.
Shootings are taking place all over Las Vegas. Please leave me alone @VenetianVegas I have no place to go currently. And all Casinos that have me banned will be destroyed effective immediately. And @Rio, get my belongings together immediately when @POTUS declares safe I'm going.

— Ken Strauss (@kpittboy) July 27, 2019
Wow my ❤️life has taken an interesting turn of events. I'm really sorry for all the apparent false Tweets. And you know what, I'm a sick fuck! I'm happy our 13 year old is dead! Keep killing the Children! @POTUS

— Ken Strauss (@kpittboy) July 27, 2019
Bizarre Behaviour
His bizarre tweets in late July were the last straw following a series of dangerous and threatening behaviour during the month. The authorities arrested him showing that they took his social media posts seriously. He posted the $20,000 bond the following day.
According to a local station in Las Vegas, Strauss was first arrested on July 27 at the Trump International Hotel for conveying false information relating to acts of terrorism. Early in the day, he reportedly attempted to lure an 8-year-old boy to his room. When the parents caught him, they immediately called the attention of the hotel manager. Strauss was sent out of the hotel, though he claimed he thought he knew the boy from his hometown.
On the same day, Strauss was reported to Venetian police for displaying suicidal behaviour and threatening to harm anyone who would approach him. He escaped arrest.
Strauss appeared before a court hearing on August 29, during which he was indicted for making threats of an act of terrorism by Nevada Chief District Judge Linda Bell. He is due back in court on September 5, facing a higher bond of $150,000.
Still mourning over one of the deadliest mass shootings in US history, Las Vegas won't take any chances. Whether or not there is truth to Strauss' tweets, the authorities believe that the best thing to do is to put him under surveillance now that terrorism is so rampant.