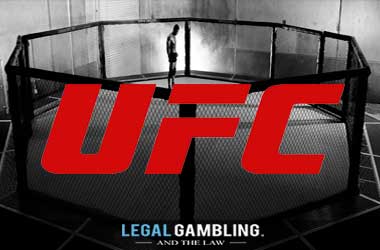 For the first time in three years, Khabib Nurmagomedov will not be the UFC's lightweight champion.
If he was fighting, then this could arguably go in his favor, but he announced his retirement after posting his 29th victory over Justin Gaethje back in October of last year.
The new title will now be up for grabs between Charles Oliveira and Michael Chandler.
For the co-main event, this could be a future contender for the title as former lightweight contender Tony Ferguson takes on Beneil Dariush.
Best Sports Sites To Bet On UFC 262
AXIOM COMBAT
Main Event Breakdown: Lightweight Championship
* Odds have been provided by Intertops and are accurate of May 11, 2021
Charles "Do Bronx" Oliveira (30-8-0)
Odds to win: -135
Oliveira is coming off an excellent win against Tony Ferguson at UFC 256, which marked his eighth straight victory. He arguably is one of the more dominant grapplers fans have witnessed, with the exception of Khabib, of course.
He definitely has improved on his striking since he has landed a handful of knockout victories recently compared to his 14 total career submissions. Indeed, he has fared much better since returning to this weight class back in 2017.
Michael "Iron" Chandler (22-5-0)
Odds to win: +105
Chandler shocked fans in his debut after dismantling Dan Hooker by a first-round knockout. The former Bellator star has dreamed of becoming a UFC champion, and he has an exciting opportunity to do so.
By winning a title here, he would add on top of his success at Bellator, which was three lightweight titles and plenty of other accomplishments to go around. As shown in his last fight, he has great knockout power in addition to great wrestling.
Prediction: Chandler wins via TKO
This should be a great showing between these two fighters. No doubt that this will be a close fight to watch.
If Chandler can keep Oliveira close and keep constant pressure, then he has a great chance to land a knockout of some kind. He also has an excellent defense against takedowns and wrestling background, so this should benefit him.
Preview Of Other Main Event
Tony "El Cucuy" Ferguson (26-5-0): +130
Beneil Dariush (20-4-1): -165
Ferguson, a strong former title contender, comes in ranked as the fifth-best from the lightweight division. He has earned a lot of respect over his career but has two back-to-back losses that have been ugly to watch.
He has, in the past, been able to land a series of excellent strikes and then take opponents to the ground in a flurry of a submission attempt. However, his last fight against Oliveira was the complete opposite of this, and fans have wondered where the 37-year-old is at right now.
Dariush is not terribly far behind Ferguson and comes in ranked ninth in the division. He, too, has a solid background in wrestling and has been showing fans what he can do with his last six fights.
His last performance was a split decision against Carlos Diego Ferreira. Before that, he had four Fight of the Night honors to add to his six straight victories.
Prediction: Dariush wins via TKO
Dariush has fought some great quality fighters recently and landed some big wins. Even though Ferguson has lost to two of the top three talents of the lightweight division, Dariush has not been too far behind facing top 10 talent.
Dariush will most likely use his brutal leg kicks and constant striking to wear down Ferguson. This could get ugly once again if Ferguson is not ready.