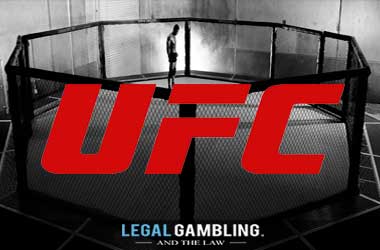 UFC 245 is an upcoming mixed martial arts event, slated to take place on December 14, 2019, at T-mobile Arena in Paradise, Nevada, United States, where we will see the current champion Kamaru Usman and former interim title holder Colby Covington duke it out in the Octagon in the event headliner.
At the same event, we will also get to see a featherweight championship fight between the current champion Max Holloway and Alexander Volkanovski, women's bantamweight championship bout between the current champion Amanda Nunes and Germaine de Randamie, and two men's bantamweight fights between Marlon Moraes and Jose Aldo as well as an exciting fight between Pert Yan and Urijah Faber.
Best Sports Sites To Bet On UFC 245
With only 12 divisions in UFC across both men and women, there is a very limited number of champions in the organisation, meaning it's very rare to see a fight card with multiple title fights. That being said, UFC 245 will feature three, meaning it's a UFC event no mixed martial arts fans should miss, seeing how there are three belts on the line and six fighters eager to claim them for themselves.
UFC – Ultimate Fighting Championship
Main Event Breakdown
* Odds have been provided by Bet365 and are accurate of 12 December 2019
Kamaru Usman (15-1-0)
Odds to win: 1.57 (-175)
Nigerian-born fighter, also known as "The Nigerian Nightmare" will enter the bout with a 14-fight streak and will look to keep his fire going by adding another W to his record.
The 32-year old won his welterweight title back in March at UFC 235: Jones vs Smith, where he beat Tyron Woodley with a unanimous decision and with that helped put Africa on the martial arts map by becoming the first Nigerian UFC champion.
Much like his opponent, Usman has been involved in wrestling since the young age, which helped him pave his way into the professional fighting scene. As an interesting fact, at his young age, Usman continuously lost to the same female wrestler, but that did not stop him to go on and become one of the best wrestlers in his school, reaching an impressive 53-3 record.
Usman went on to become a force to be reckoned with, winning NCAA Division II championship title as well as helped the University of Nebraska achieve the first-ever team-title in 2008.
Entering his fight with Colby, Usman is priced as a heavy favourite and it's easy to figure out why bookmakers have him as the man to beat. His 6-inch reach and arguably stronger punches will prove to be the Nigerian's biggest advantage over his opponent. That being said, we believe Usman does lack some cardio compared to Colby, which is completely understandable, considering he is a bigger man.
Key to Usman success will be to avoid Colby's early pressure, which if not dealt properly with could leave Usman fatigued once the fight enters later rounds.
Colby Covington (15-1-0)
Odds to win: 2.50 (+150)
The 31-year-old has claimed his interim welterweight title after defeating Rafael dos Anjos in June 2018 with a unanimous decision. Unfortunately, Covington failed to fight a unification bout later that same year against Woodley due to health reasons, which saw him stripped of the title.
Colby "Chaos" Covington returned in the Octagon in August when he beat Robbie Lawler by a unanimous decision and will look to do the same against Usman to reclaim the title he was unable to defend.
Colby Covington is known for his wrestling achievements since his young age, which is something him and Usman have in common. While attending Iowa Central Community College, Covington won the 165 lbs junior college title as a freshman and later became two-time Pac-10 Conference champion and a collegiate wrestling All-American champ.
His elite wrestling proved to be a great stepping stone for him to kick-start his MMA career, however, Colby went further on to added an impressive offensive striking to his arsenal, making him a complete MMA fighter and considering he holds UFC-all time record for most strikes thrown in a fight, it's safe to say the 31-year-old does not only rely on his wrestling to do the job.
What is even more impressive is that Colby has not lost a single fight since 2015. Furthermore, he has not lost a single round in the same time period. Colby already defeated Dong Hyun Kim, Demian Maia, Rafael Dos Anjos and Robbie Lawler, how his eyes are set on Kamaru Usman.
Prediction
This fight is bound to be an exciting one, seeing how both fighters come from a wrestling background, which would suggest both use the same style, but the reality is far from that.
Each fighter possesses his own unique style of striking, which will also be the key to separating them here. Colby is expected to use a mix of strikes and his constant forward pressure, to get Usman to the cage and in a position for a takedown. While his punches are not exceptionally strong, the sheer number of them will help him earn plenty of points and that's also one of the main reasons why Colby hadn't lost a round in four years.
Usman on the other side is expected to take advantage of his long reach and obvious power advantage. That being said, we have addressed before he will have to use his stamina wisely, as he is arguably in a worse position when it comes to cardio. All things considered, this one will be a fight between power striking and wrestling against pressure and high output striking.
Predicting a winner here is hard, as we did not get a chance to see either fighters' weakness yet. As it all seems this fight can go either way, which from a sports betting perspective means we have to side with the underdog. Colby might not have the strength of Usman, but he more than compensates that with his pressure, speed and cardio. Colby Covington to win