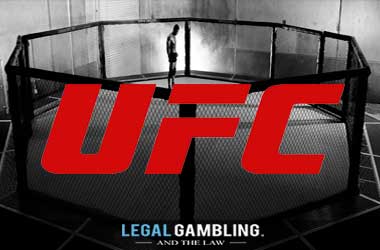 The UFC is venturing into new territory when they step foot into Abu Dhabi for UFC 242.
The card is headlined by potentially one of the best fights of the year, when Khabib Nurmagomedov puts his undisputed lightweight title and undefeated record on the line against current interim champ, Dustin Poirier.
The co-main event features a rematch of a lightweight showdown, between Edson Barboza and Paul Felder.
Best Sports Sites To Bet On UFC 242
UFC – Ultimate Fighting Championship
Main Event Breakdown
* Odds have been provided by GTBets and are accurate of 3rd Sept 2019
Khabib Nurmagomedov
Odds to win: -455
As you can see, Khabib is the clear favourite in this fight, and it is hard to argue against that. The current lightweight champion is currently undefeated at an ultra-impressive 27-0 and is most recently coming off a submission win over Conor McGregor. Right now, the man looks unstoppable at 155, and he has thoroughly mauled everyone who has stood across the cage from him, with hardly anyone putting him in real danger at this point.
Dustin Poirier
Odds to win: +320
For Poirier, he realises that he is the underdog in this fight and wants to be seen as the "Rocky" in this storyline. I will say, if there is anyone up to the task, Poirier is your man. He is a big, powerful 155er, and has tremendous accuracy in his hands, as well as a great pace. He is coming off a UD win over Max Holloway, where he claimed the interim title.
However, even with as much heart as Poirier displays and the power he possesses, I'm not sure if it is enough to break Khabib and stop the relentless pressure that is sure to come.
Official Pick
My heart really wants me to lean towards Poirier shocking the world, TKO'ing Khabib and once again, mixing up the lightweight division. However, my brain is telling me otherwise, and despite how much I love an underdog story, I don't think this is one that becomes reality.
At the end of the day, Khabib's wrestling and pressure is just relentless, he seems to have a fantastic chin, and his striking is evolving each and every fight. I think we see some glimses of hope for Poirier early on, but that will quickly be stripped slowly but surely as Khabib does what he does best, eventually getting the stoppage win.
Pick: Khabib Nurmagomedov def. Dustin Poirier via TKO round 4.
Preview Of Other Main Event
Edson Barboza: -167
Paul Felder: +130
In the co-main event, we see a rematch of a great lightweight clash between Edson Barboza and Paul Felder. In their first meeting back in 2015, it was Barboza who was able to pick up the decision win over Felder.
However, fast forward to present day, and both guys are in completely different spots. For Barboza, he has lost 3 out of his last four fights and is coming off a bad KO loss to Justin Gaethje. For Felder, he is coming off of a solid win over James Vick.
This is a crucial fight for both fighter's career. A win for Barboza, and he gains the first piece into rebuilding himself as a contender at 155, and a win for Felder means that he finally gets to move into the real elite of the division.
On the flip side, a loss would be a large setback for both men, and I think they realise that, especially for Barboza. I think just about any MMA fan knows what Barboza is capable of, and on the right night, I think he can finish anyone at 155 with his precision and explosive striking.
For Felder, he is a great, technical wizard, who seems to be able to do just about anything, making him one of the more complete guys at 155.
Official Pick
If this fight was happening about a year ago, I think I'd easily side with Barboza getting another win over Felder in similar fashion, but times have changed. Felder is hungry to move into the elite of the division, and Barboza has been through three really tough losses, which started with him being absolutely mauled by Khabib.
For some reason, I tend to really think that this will be Felder's coming out party, and I have a feeling this will be a great night for him, and unfortunately, a bad night for Barboza.
Pick: Paul Felder def. Edson Barboza via KO/TKO Round 2.