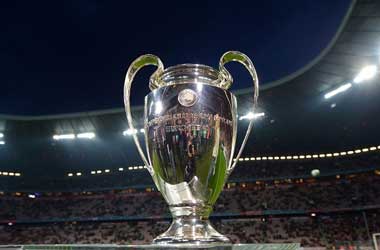 Bayern Munich and Paris Saint Germain will meet in the grand finals of the 2019/20 UEFA Champions League this Sunday, where the two European football titans will duke it out for the prestigious trophy, €19,000,000 in tournament winnings and a ticket for the UEFA Super Cup, which will be played on Thursday, September 24.
This year will mark the 65th iteration of Europe's premier club football tournament, as well as Bayern Munich's 11th and PSG's first-ever appearance in the grand finals.
The match is slated to kick-off at 20:00 WEST on Sunday, August 23, at the Estádio do Sport Lisboa e Benfica in Portugal, where no live audience will be present due to the ongoing COVID-19 pandemic.
Bet On PSG vs. Bayern Munich On Our Best Sportsbooks
Optus Sport
Let's take a look at who you should consider when you go to bet on this affair coming up this weekend!
* Odds have been provided by Bet365 and are accurate as of 20/08/2020
Paris Saint Germain
Key Player: Kylian Mbappe
Paris Saint Germain have earned their spot in the history books by clawing their way to the club's first-ever UCL grand finals and are now only one step away from becoming the 23rd team in the history of the competition and the first French team since Marseille in 1993 to reach the summit of European football.
While PSG's road to the grand finals was not nearly as dominant as that of Bayern Munich, there is no denying Kylian Mbappe and co. deserved their right to represent France in the biggest club competition in the world.
PSG began their journey through UCL in Group A, where they got seeded with Real Madrid, Club Brugge KV and Galatasaray, and managed a fairly impressive 5-1-0 record, drawing only one game against the 13-time UCL champions Real Madrid.
Before UCL went on a break amid the COVID-19 pandemic PSG defeated Borussia Dortmund (3-2 agg.) in March, which secured them a meeting with Atalanta in the quarter-finals. The quarter-final match proved to be extremely close as it was the Italian squad who led for 90 minutes, before Marquinhos and Choupo-Moting M. brought home the bread with two goals in 90′ and 90'+3.
Despite PSG's rather shaky performance against Atalanta, they had no real issues taking down RB Leipzig (3-0) in the semi-finals on Tuesday with Marquinhos, Di Maria and Juan Bernat all putting their name on the board.
Even though PSG don't possess a scoring threat such as Robert Lewandowski, having Kylian Mbappe and Neymar on the roster is nothing to sneeze at. Both are widely regarded as two of the best football players in the world and are both more than capable of producing their moment of magic. If we add the veteran Angel Di Maria and the star midfielder Marco Verratti to the mix, we get a perfect recipe for a team that is solid all-round and will not go down easy.
PSG started using the 4-3-3 formation as of late, however, that does not necessarily they lost any of the fluidity. Boasting with fast players and a strong sense of how to move the ball, PSG is not a team that you would let get in their rhythm as they can quickly punish their opponents especially if either Kylian Mbappe or Neymar get the ball in a dangerous position.
Even PSG's defense is nothing to underestimate, considering they possess players like Marquinhos, who does not shy away from helping the midfield. It remains to be seen, however, whether he will keep his playstyle since Marco Verratti's return. It's also worth noting that Keylor Navas could return for this match after missing the semi-finals due to a hamstring tear.
Odds To Win: 3.30
Bayern Munich
Key Player: Robert Lewandowski
The German football juggernauts showed little to no struggle en route to their 11th UEFA Champions League grand finals. They started their campaign into the prestigious European football competition in Group B where they got paired with Tottenham, Olympiacos Piraeus and FK Crvena Zvezda and came out with a perfect 6-0 record and 17-2 goal difference.
Robert Lewandowski's squad extended their momentum into the playoffs, where they crushed Chelsea in 1/8 finals with 3-0 in the first leg in February, to which they added another spectacular performance after the break, winning the second leg 4-1, to seal the deal with an impressive 7-1 aggregate score. Following the commanding quarter-finals performance, Bayern Munich made all the headlines after they humiliated FC Barcelona with an 8-2 win, which solidified them as the main favourites to hoist their sixth UCL trophy.
Surprisingly enough, Lyon put up a much tougher fight in the semi-finals, but even they proved to be no match for the German machine, who came away with a convincing 3-0 win, and with that booked a spot in the playoffs.
Much of Bayern's success comes down to the incredible performances from Robert Lewandowski, who is currently leading the Champions League top scorer leaderboard with 15 goals and five assists. That, however, is not to say Lewandowski is the only threat on Bayern Munich's roster, considering the Germans still field Serge Gnabry (9 goals), Thomas Muller (4 goals).
Bayern Munich prefer a 4-2-3-1 formation, which allows their fullbacks to move forward while also covering the middle. This is a perfect formation for the Germans since they can take advantage of their fast wings in Ivan Perisic and Serge Gnabry, who supply Robert Lewandowski with the ball. What makes Bayern even more dangerous, however, is their incredibly stacked bench which possesses plenty of attacking options in Kingsley Coman and Philippe Coutinho.
Odds To Win: 1.95
Our Predication
If we compare the two sides, there are arguments to be made that Bayern are slightly better in the defence, namely due to the fact that they field Joshua Kimmich and Alphonso Davies, and are guaranteed to have Manuel Neuer at their disposal, whereas Navas is still under question.
Having said that, it would be fair to say PSG hold a slight edge in the attack. Even though Robert Lewandowski is currently the best-attacking player in the world, it's hard to value Lewandowski, Muller, Gnabry and Perisic over Neymar, Mbappe, Icardi and Di Maria.
The midfield looks to be equally matched since both teams field a lot of quality players. Leandro Paredes has looked very good and Veratti back on the team, so PSG should be very solid. But will that be enough to come ahead of Leon Goretzka and Thiago? It's tough to say.
Since Bayern Munich looked much sharper en route to the finals, it's hard to argue with the bookmakers, who have the Germans priced as the favourites. That does not necessarily mean Bayern will crush their French adversaries, but after what they have shown and with Navas not confirmed to play, it makes much more sense to side with Bayern to win here.