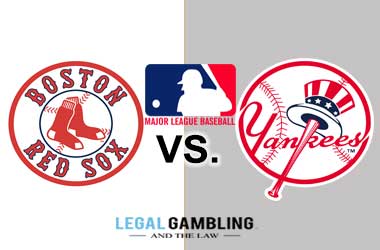 As Major League Baseball continues to try to grow in popularity around the world, they have started to send their teams to other countries to put on a showcase.
The Boston Red Sox and New York Yankees will be in London this weekend for a brief series that begins on Saturday. Boston and New York is one of the most storied rivalries in all of sports, and they should put on a great show for the fans in the United Kingdom.
These will be the first two Major League Baseball games to ever be played in Europe, but more games are scheduled in the upcoming seasons.
New York will come into this game in first place in the American League East, and have won 50 of their first 78 games this season.
The Yankees just recently rattled off eight straight wins, and they will be a tough team to contend with in the American League Playoffs in October.
The Red Sox are the defending World Series Champions, but are suffering through a bit of a hangover. Boston currently finds themselves in third place in the American League East, and trail the New York Yankees by eight games. The Red Sox have improved their record to 43-37, but have had a rough stretch of late.
Bet On MLB London Series 2019 With The Following Sportsbooks
Red Sox
The Boston Red Sox offense got off to a slow start this season, but their bats are starting to wake up. Boston actually has a .264 batting average as a team, which is four points higher than the Yankees. J.D. Martinez is leading the Red Sox with 16 home runs this season, while Xander Bogaerts has driven in a team-high 51 runs. The Red Sox are still waiting for Mookie Betts and Jackie Bradley Jr. to start hitting with more consistency, and won't be able to make up any ground until that happens.
Boston also struggled to get great starting pitching early in the season, but they will have one of their top pitchers on the mound in this game. Veteran Rick Porcello was a hero for the Red Sox during the 2018 Playoffs, but has not been able to find his groove yet this season. Porcello has gone just 5-7 through his first 16 starts of the season, and sports an earned run average of 4.52. Boston will need a great start from Porcello to give their offense a chance.
New York Yankees
The New York Yankees have been riddled with injuries so far this season, but it appears they are starting to get healthy. Outfielder Giancarlo Stanton blasted his first home run of the season on Monday night, and gives the Yankees another slugger in their lineup. New York recently homered in their 27th straight game, which is a Major League record. Catcher Gary Sanchez is having a career year, and leads the team with 23 home runs and 52 runs batted in. It's hard to know how the weather conditions or ballpark will affect the baseball, but the Yankees can hit home runs anywhere.
New York will send Masahiro Tanaka to the mound in this game, and he has been pitching well this season. Tanaka has gone 5-5 through his first 16 starts this season, but has a sparkling ERA of just 3.21. The Yankees also feature one of the best bullpens in all of baseball, and fans in the UK will love watching them light up the radar gun.
Our Prediction
You can throw records and past results out the window when these two teams take the field, as this rivalry is extremely hard to predict. Even though this game will be played on a neutral field, there will be no love lost.
Boston is going to turn their season around at some point, but it's not going to happen this weekend. The Yankees are just playing too well, and they can hit the ball out of any ballpark. Bet the New York Yankees over the Boston Red Sox in the first ever game played in Europe.