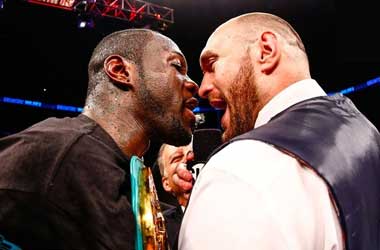 Tyson "Gypsy King" Fury and Deontay "The Bronze Bomber" Wilder locked horns in December 2018 in what was a spectacular boxing match, which ended in a draw.
It all seemed like a rematch was set to take place shortly after, but things did not go as planned as there were many factors that postponed what is dubbed as one of the most anticipated boxing rematches of the century.
However, the wait will end on Saturday, February 22, when the two heavyweight juggernauts will step into the ring at MGM Grand Garden Arena, Paradise, Nevada, US.
The fight is billed as "Unfinished Business", which is a fitting name for a bout which will finally determine who of the two is the undisputed heavyweight champion.
Best Betting Sites To Bet On The "Unfinished Business" Fight
Top Rank Boxing
Previous fight
Taking place in front of 17,698 spectators at the Staples Center, Wilder and Fury fought a 12-round split decision draw, which meant Wilder retained his WBC title. The judge's scores showed 115-111, 112-114 and 113-113, which did not go down well with the crowd, who in majority believed Fury has shown enough to dethrone Wilder.
Round one was slower than expected, as it seemed like the fighters took their time to feel each other out. In rounds that followed, the fighters went back and forth, with Wilder handing Fury a few punches in fourth, and the Gypsy King returning the favour in round six, when he switched to southpaw stance, which proved to be a great strategy to push Wilder against the ropes. Fast forward to round nine, Wilder dropped Fury with a left hook followed by an overhand right. Fury survived the countdown and returned to the fight. Because Wilder spent a lot of energy trying to finish the fight in the ninth round, he looked fatigued in round 10, when it was Fury who took advantage of the situation and won both round 10 and 11.
But the tides have turned in round 12, when Wilder landed right-left combination to put Fury flat on his back, again. At this point it seemed like the fight was over, but the Gypsy King was not done just yet as he beat the countdown for the second time. Wilder, fatigued again, was unable to cause any serious damage to Fury, but instead took quite a beating which ultimately earned Fury a draw.
Statistics of the fight showed Wilder landing 71 punches out of 430 thrown (17%), while Fury landed 84 out of his 327 (26%). Fury also out-landed Wilder in nine out of 12 rounds, which was surprising to see, as Wilder was far less accurate compared to his other fights.
Things to Watch For
* Odds have been provided by BetOnline and are accurate as of 29/11/2019
Deontay Wilder (42-0-1)
Current Odds: 1.95 (-105)
Since his draw with Fury in 2018, Wilder defeated Dominic Breazeale and Luis Ortiz, both with a knockout, courtesy of his signature right hand. It's already a well-known fact, but we have to remind everyone Wilder is without a doubt the hardest hitting boxer in the sport and arguably the hardest puncher in the boxing history. Some may disagree, but there is no hiding the fact he holds a 98% knockout rate, finishing all but two of his opponents (Bermane Stiverne and Tyson Fury) with a KO.
While Wilder's punches are devastating, his overall boxing skill is rather mediocre. Looking at how Wilder approaches his fights, it's clear he has low boxing IQ, no hook and no jab, meanwhile his head movement is very underwhelming for a boxer of his calibre. The fact that he can compensate all that with his right hand speaks louder than words, but what happens when that simply is not enough to win a fight? We got a chance to see just that in his previous bout with Fury.
Tyson Fury(29-0-1)
Current Odds: 1.86 (-115)
Since December 2018, Tyson Fury won two bouts against Tom Schwarz and Otto Wallin. The former he defeated by a TKO in round two, while Wallin managed to survive for all 12 rounds, but eventually lost with the scorecard showing 118-110, 117-111 and 1116-112 in Fury's favour.
Comparing Fury to Wilder, we are confident saying he is a better fighter and although he does not have the nuclear right hand of Wilder, Fury compensates that with much higher boxing IQ and overall better approach to the fight. Furthermore, he is more than capable of delivering knockouts, as he has done in 20 out of his 29 fights.
Even though Fury landed on the ground twice his first fight against Wilder, he got up, and not only did he get up, Fury ended up claiming a draw, which only goes to show he was far ahead of Wilder. Most boxing enthusiasts and fans still firmly believe Fury should have won that night and while that debate has been going strong for over a year now, Fury will have a chance to claim what is supposedly his on Sunday, February 22 at MGM Grand Garden Arena.
Pick and Prediction
Fury is entering this bout as a slight favourite and we believe that is more than fair. His win condition for this match is quite simple – stay outside the range of Wilder and his right hand. That, however, might sound easier than how it really is, which makes this a 50/50 fight.
The only reason why we believe this is a coin-toss bout is because one punch can end it all and we can never know for sure if and when that punch will come. Looking back at the first fight, Fury outclassed Wilder, yet still found himself on the verge of losing – twice. Nonetheless, we have a reason to believe Fury has prepared himself to fight Wilder better this time around.
As we see it, the only way Wilder can win this one is if he can knock out Fury, while the Gypsy King will win if the bout goes into 12 rounds. For that reason, we have to side with Fury to deliver and hand Wilder his first loss in his professional boxing career.