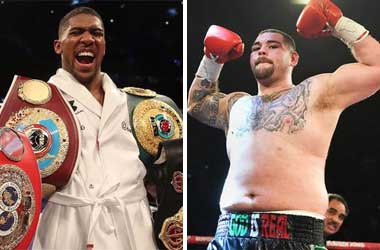 WBA/IBF/WBO heavyweight champion Anthony Joshua (22-0, 21 KOs), the undefeated slugger from Watford, Hertfordshire, United Kingdom, will defend his titles against Andy Ruiz Jr. (32-1, 21 KOs), from Imperial, California at Madison Square Garden in New York City.
This fight will mark the American début for Joshua, who will get his first taste of the American boxing scene.
Joshua will be a huge favourite, coming in at (-2310) while Ruiz comes back at (+1110).
Best Online Sports Betting Sites To Bet On
Things to Watch For
If you are betting on Joshua vs. Ruiz, you should pay close attention to the prop bets involved because that money line offers no value. Be looking at which round Joshua will end Ruiz's night as there is some value in those. There really is no value in looking anywhere else.
Let's face it, the boxing system is broken. I will watch this fight because Joshua is in it, but no one truly wants to sit down and watch this. For all his popularity, Joshua has not yet fought an elite heavyweight at the top of his game. Ruiz, despite his impressive record, seems unlikely to derail the AJ juggernaut. In all honesty, Ruiz should not even be here but credit to the man that has stepped in for the disgraced Jarrell "Big Baby" Miller on short notice. Miller failed three pre-fight drug tests before a scheduled showdown with Joshua and was pulled from the bout.
SecondsOut
There is nothing on Ruiz's resume to suggest that he has anything to offer Joshua. Joshua has a better record than Ruiz and better stats. Joshua has beaten a man that Ruiz has lost to. Sure, he is not as used to going the distance as Ruiz, but this is because his knockout power has been proven, time and time again, to be good enough to get the job done inside the distance. Ruiz is also the shorter fighter and has shorter reach. He will have to get inside to do any damage to Joshua. Joshua, with all his power, is still a very good boxer and he will make Ruiz earn every inch of getting inside.
It will be very interesting to see how quickly Ruiz gets disheartened by taking so much punishment just to give himself that puncher's chance. Even if Ruiz does give himself that chance, it is questionable if that will be enough to pull off the massive upset. Much has been said about Ruiz's power, but if he couldn't put away the likes of the relatively unknown Joell Godfrey, Raphael Zumbano Love and Franklin Lawrence, what chance does he stand of knocking out Anthony Joshua?
In the end, I can't see Ruiz finding a way to trouble Joshua in this bout. The bigger man will control him and keep him from getting too close and making too much trouble. Props to Ruiz for taking this fight on short notice and everyone loves a good "Rocky" story and enjoys rooting for the underdog, but he will become just another footnote in Joshua's championship story. This just is not going to be a memorable night for Ruiz. The most intriguing event of the night will be Joshua's post-match interview to see if the names Deontay Wilder or Tyson Fury are mentioned.
Anthony Joshua will win his first-ever fight on US soil in decisive fashion. This win will continue the clamouring for a super fight with either Deontay Wilder or Tyson Fury at some point in 2019 or 2020. Until 2 of those 3 men enter the ring together, the heavyweight division can sadly be forgotten
Pick and Prediction