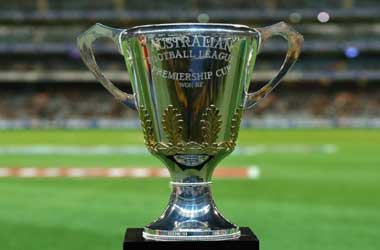 Australian Football League (AFL in short), the premier competition for Australian Rules will come to a close this Saturday, September 28 with a grand finals fixture between Richmond Tigers and Greater Western Sydney Giants at Melbourne Cricket Ground, also known as "The G".
The 2019 AFL finals series marked the 122nd annual edition of the VFL/AFL finals series, which feature top eight teams from the AFL Premiership season, who clash against each other in hopes to earn a ticket for the AFL Grand Finals, which are traditionally held on the final Saturday in September at the Melbourne Cricket Ground.
The game itself has become a huge part of the Australian culture, spawning numerous activities and traditions ahead of the finals (from Brownlow medal ceremony, Grand Final parade, Grand Final Breakfast and more), which gained a lot of popularity since the creation of the national AFL competition in the 1990s.
One of the biggest rivalries of the AFL Grand Finals is the Richmond versus Collingwood, whose rivalry dates back to 1919 and have met each other in five Grand Finals so far. Many expected to witness the historic Richmond versus Collingwood Grand Finals this year as well, however, it was Greater Western Sydney Giants who had other ideas.
Bet On Richmond vs. Greater Western Sydney With The Following Sportsbooks
It's fair to say that seeing Greater Western Sidney Giants in the finals instead of Collingwood is a bit of a surprise, considering WSG finished their 2019 AFL season barely sixth. Nonetheless, the Giants impressed everyone and rightfully earned their spot in the AFL Grand finals for the first time in their history.
It's also worth noting the 2019 AFL Grand Finals will be the eighth consecutive season in which one Victorian and one non-Victorian team will meet in the finals, and it will mark the second time in history (since 1980), in which neither of the top two teams qualified for the Grand Finals.
Richmond enter their 23rd AFL Grand Finals as -17.5 point favourites, which should not come off as a surprise to anyone, seeing how Richmond defeated Greater Western Sydney once already this season with a convincing 94-67 score. That being said, Giants will not take this fixture lightly, as they aim at revenge for their 2017 preliminary final defeat to the Tigers (67-103).
True Footy
* Odds have been provided by Bwin and are accurate as of 25/09/2019
Richmond Football Club
Current Odds: 7/20
This will be the 23rd finals for Richmond, since joining the league in 1908. Out of 23 appearances in the Grand Finals, Richmond managed to win 11 and will look to make it 12 this Saturday, as they take on the Giants.
Looking back at Richmond's 2019 AFL season, they finished third behind Brisbane Lions and Geelong Cats despite having the same amount of points (64), due to Points percentage difference. Nonetheless, they still earned a spot in the finals series, where they did not fail to showcase all their might.
In the second qualifying final, Richmond crushed Brisbane (112-65) to secure a spot in preliminary finals, where they meet with Geelong Cats, who have caused Richmond some problems in AFL season. The two sides meet in round 12, when Cats humiliated Tigers (37-104). On Friday, September 20, however, it was the other way around, with Richmond winning 85-66 to claim their 23rd ticket to the Grand Finals.
Seeing how strong Richmond looked in their fixtures against Brisbane and Geelong, there are a lot of hopes they can win their 12th title this weekend, and if they can produce anything similar to what they have shown in the finals series, they will be a force to be reckoned with.
Player to watch: Dustin Martin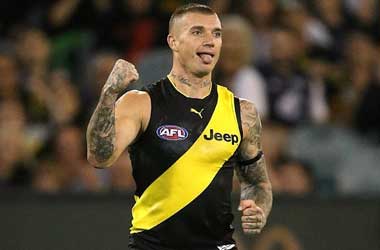 It would be hard to ignore Dustin Martin as the key player in Richmond. He is the driving force behind the team with his incredibly versatile style of play, which makes him a huge nuisance to his opponents.
It's worth noting that in Richmond's fixture against Brisbane Lions, Dustin Martin became the first Tigers player to kick six goals in a final, since Richmond's Hall of Famer David Cloke in 1980.
All in all, if there will be one player that will cause problems to Giants, it's going to be 2017 AFL premiership player and three times All-Australian, Dustin Martin.
Greater Western Sydney Giants
Current Odds: 39/20
Whichever way the grand finals end, Greater Western Sydney Giants and their performance in the AFL finals series will not be forgotten easily.
Giants earned their ticket to their second-ever AFL finals series by finishing 2019 AFL season sixth, with a 13-9-0 (W-L-D) record and 52 points. That was more than enough to finish among the top eight, yet far from the top three teams (Geelong, Brisbane Lions and Richmond), who ended the season with 64 apiece.
Nonetheless, Giants did not hesitate to prove their worth in the finals series, where they cruised by Western Bulldogs (113-55) in elimination finals, edged by Brisbane Lions (83-80) in semi-finals and went out of their way to defeat Collingwood (56-52) on Saturday, September 21.
To see them defeat the Magpies without Stephen Coniglio, Brett Deledio, Callan Ward, Toby Greene, Lachie Whitfield and Jon Patton in front of almost 80,000 fans was a sight to behold and arguably the biggest achievement of the Giants' eight-year-long history as an AFL club. However, they still have one last hurdle to jump over to claim their first-ever title as AFL champions and that hurdle goes by the name Richmond.
Player to watch: Toby Greene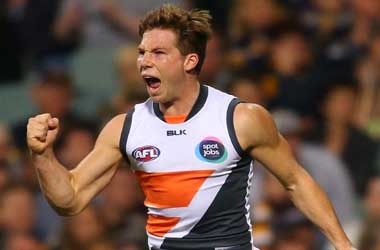 As mentioned Toby Greene did not participate in Giants' historic win against Collingwood last Saturday (due to suspension), but he is now back and ready to lead his team to their maiden premiership.
There is not a lot to say about Greene that has not already been said. He is the X-factor for Giants, known to "produce something out of nothing" with his immense talent and presence on the field.
If he is on top of his game, Greene can be an incredibly difficult match-up for his opponents and if Richmond fail to keep an eye on him, they could face some issues
Our Prediction
This is expected to be an exciting grand finals match, featuring two exceptional teams. Giants have been just fantastic throughout the finals series, where they showcased some incredible performances, which deservingly earned them a spot at Melbourne Cricket Ground. That being said, the grand finals match will be their third consecutive trip interstate in the finals series, which will not do any good for the team. Tigers on the other side had to do far less travelling, seeing how they had to leave Melbourne only once since round 16, so in that regard, Richmond have an advantage.
We also have to address the fact Richmond won 34 out of their last 37 fixtures at Melbourne Cricket Ground, which is by no means something we can ignore ahead of the grand finals.
As far as their head-to-head results are concerned, Giants won twice in the last five, whereas Richmond won three times, most recently in July, 2019, when they crushed Giants 94-67.
All things considered, Richmond come off as a stronger team in this fixture. Giants are expected to put up a solid fight, however, when push comes to shove, Richmond should come out ahead with at least 20 points to spare.