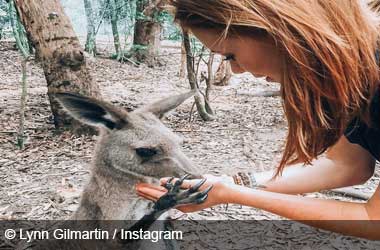 Catastrophic bushfires have continued to rip through many parts of Australia and cause extensive damage to property, animals, the ecosystems and millions of Australians. These bushfires have been blazing since September 2019, claiming at least 26 lives, and creating unprecedented damage to the country's unique wildlife.
The 2020 Aussie Millions which is one of the biggest poker tournaments in the Southern Hemisphere especially for Australian Poker players, is currently underway at Crown Melbourne. Poker players have a reputation for lending a helping hand and they have decided to band together to help Australia.
The poker community wants to make sure it does its part in helping Australian recover from this catastrophe by offering their support.
Crown Melbourne in particular has allocated A$5 million for bushfire relief efforts. Several popular figures in the world of poker have also started their own fundraising initiatives.
Poker presenter Lynn Gilmartin (pictured) was able to raise $50,000 in five days, all of which will go to the Australia Zoo Wildlife Warriors, a conservationist organisation founded by Steve and Terri Irwin. Gilmartin has been supporting the organisation's causes for quite some time now and she is boosting her support even more by also gathering further help from the poker community.
The money will go a long way in treating the animals which are bearing the brunt of the disaster.
Nine News Australia
Poker Players for Australian Wildlife
Gilmartin set up the "Poker Players for Australian Wildlife" fundraiser on January 6, with a goal to collect A$10,000. The responses have been overwhelming as it only took an hour to reach that target. Gilmartin set a new goal of A$100,000 and by this time more than 60% of the new goal has been achieved.
The presenter said helping in any way you can and sharing what you have is a responsibility. Good deeds are contagious, and Gilmartin is hopeful that more and more people will also think of a way to help.
Among the other players also pledging contributions to the relief efforts are two-time WSOP winner and Australian poker pro Kahle Burns, Taiwan's Kitty Kuo and Romanian poker pro Alexandru Papazian.
Players donating at least $500 would get free coaching from Burns. Kuo will also give away a portion of her Aussie Millions Main Event cashout, while Papazian also pledged to allocate a slice of his Sunday session, win or lose, to help in the relief efforts. Dusk Till Dawn's Rob Yong has also confirmed that he will contribute $10,000.
As well as poker players contributing to the cause we also reported last week that a charity tennis match "AO Rally for Relief" is be held today, showing that everyone is doing what they can to help those in need after the devastation.