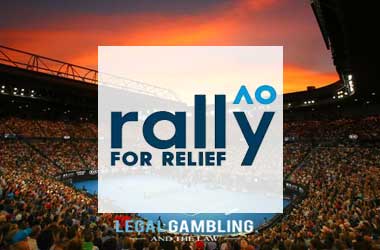 As Australia's bushfires continue to devastate the country, top tennis stars from around the world have confirmed their participation in a charity match "AO Rally for Relief", in hopes of raising funds to support the country's efforts to contain the ongoing damage.
Foremost among the participants are Rafa Nadal, Roger Federer and Serena Williams. The three superstars together hold 62 grand slam titles. Some of the other players who have confirmed their participation include Nick Krygios, Stefanos Tsisipas, Naomi Osaka and Caroline Wozniacki.
The exhibition match is set to occur at Melbourne Park's Rod Laver Arena on January 15. Proceeds from the tickets—set at A$54 ($37) for adults and A$35 ($24) for others are set to be donated to the Aces for Bushfire Relief program, geared towards tackling the bushfire.
Sky News Australia
The spate of bushfires suffered by Australia—its worst in decades—has resulted in massive damages: almost 18 million acres of land have been razed, with at least 25 fatalities recorded and over half a million animals dead.
Craig Tiley, the CEO of Tennis Australia, emphasised the need to help the bushfires' victims, describing the crisis throughout the country as unprecedented. In Tiley's statement, he praised the efforts of the tennis community—comprised of players as well as clubs and tennis bodies—and has signaled that their offers to help will be accepted.
Krygios was the first to initiate the fundraising: he promised A$200 ($140) for each ace he is able to hit in his future tournaments which influenced other players to join in.
Tennis Australia, for instance, has pledged A$100 ($69) for each ace that players hit in six tournaments, including the prestigious Australian Open; furthermore, the organisation has promised to release A$1 million ($700,000) for any damages incurred by tennis facilities due to the bushfires.
Maria Sharapova, a wildcard entry in the Australian Open, has chipped in with $17,400—an amount that was quickly matched by Novak Djokovic. Additionally, Sharapova donated 10 pairs of tennis shoes with her autograph that the public could purchase with a donation of at least A$300 ($206) to the Australian Red Cross.
Other Famous Australians Pitch In
A number of prominent sports personalities have also pledged their support the cause of alleviating the damage wrought by the wildfires.
Shane Warne, a cricket legend as well as a native of Australia, donated his treasured baggy green cap for auction which fetched a little over $1 million. Cricketers D'Arcy Short, Glenn Maxwell and Chris Lynn have also pledged A$250 ($175) for each six they hit at the 2019 Big Bash League.