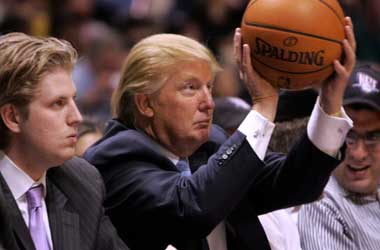 Donald Trump's beef with ESPN has now gone public. He has started a petition in an attempt to get the sports network to play the national anthem during broadcasts of Monday Night Football. This is in response to a statement that ESPN president Jimmy Pitaro made last week in which he said that the network has not made it a habit to broadcast the playing of the national anthem and that he doesn't see it being any different this year.
Pitaro's statement did not go down well with the President who has taken on the NFL and its players who decided to protest by taking a knee during the National Anthem. Trump emailed his supporters with an announcement that he had started a petition to have ESPN air the Star Spangled Banner on their broadcasts.
In the email, Trump made references to comment made by the Governor of New York.
Andrew Cuomo recently stated that he didn't believe that America has ever been that great. Trump asked his supporters to denounce what he called the 'spineless surrender to the politically correct liberal mob'.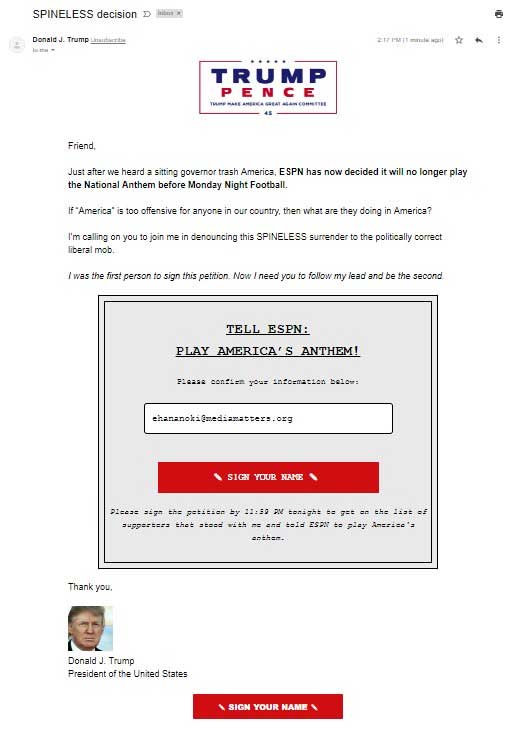 Trump wanted to know why people who are offended by America continue to live in the country. He boasted that he was the first person to put his name on the petition and asked recipients of the email to follow his lead.
Ongoing Battle With ESPN
It was at a rally last week in West Virginia where Trump first took aim at ESPN publicly. He told the crowd in attendance that ESPN had announced that they would not be showing the American national anthem during their upcoming NFL broadcasts and he didn't like it one bit. He added that while some of the players are kneeling during the national anthem that he and his supporters are proudly standing for it.
Guardian Sport
There is no mistaking what Trump's position is on the subject of players kneeling during the national anthem. He has stated that he thinks that any player who does not stand during the playing of the Star Spangled Banner should be fired by the NFL.
ESPN Aired National Anthem Three Time Last Year
It's not as if ESPN entirely refrains from airing the national anthem on Monday Night Football. It was broadcast live on the 16th anniversary of 9/11 as well as the day after the deadly shooting spree in Las Vegas. It was also played on the first Monday Night Football broadcast after Trump came out publicly against the players that engaged in protest during the anthem.