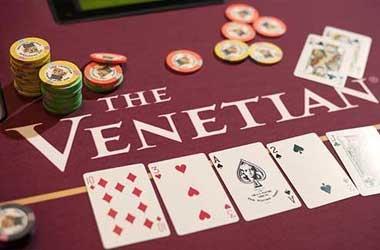 Poker players by nature are a rather patient bunch as patience is a key criteria to being successful at the tables. However, a lot of poker players are up in arms over the new "Lucky Shot Poker Series & Drawing" which is being hosted by the Venetian Poker Room from October 21 to 27.
The Venetian Poker Room is one of the most popular poker rooms that hosts a number of great tournaments including the DeepStacks Series. Poker players from all over the world tend to stop at the Venetian on a regular basis as the poker room hosts a lot of high value tournaments.
This time around, the Venetian poker room is drawing flak for the Lucky Shot Poker Series & Drawing which has a total of 7 events. The criticism comes from the terms and conditions included in the fine print. While most poker players tend to skip this part, the 'unique twist' that the Venetian poker room has added has caused poker players to lash out on social media.
The highlight of this poker tournament will be a six flights No Limit Hold'em tournament which has a $250 buy-in and a guarantee of $150,000. The drawing part will be the final part of the series where a total of $52,000 will be given out to the participants who get 1 entry for each buy-in they make during this series.
Poker Players Upset With Fine Print
The fine print listed in the terms and conditions state that one hundred percent of all funds collected from the buy-ins will go towards the $150K guarantee. Any funds collected after this $150K guarantee is reached will be taken by the Venetian poker room. This twist is what has upset poker players as the usual procedure for tournament organisers is to collect all buy-ins and put it into the guaranteed prize pool.
BREAKING NEWS!
More rake IS better at @VenetianPoker
New tournament format where you could be raked 50% OR MORE! 👉🏻 https://t.co/CgF7I6PEGh pic.twitter.com/wTHBp7Ld97

— Jeff Boski (@ICuRaRook) 12 September 2019
So in a traditional poker setting, once the $150K guaranteed amount is reached, all additional funds will continue to go into the prize pool and the total amount will be split amongst the players finishing in the money. In this case, the Venetian poker room is moving away from the status quo and has decided to pocket the extra money.
Poker players feel that they are being taken advantage off and have started a campaign on social media to boycott the tournament.
If you prefer play your poker online, why not have a look at the best US poker rooms which you can play right now…