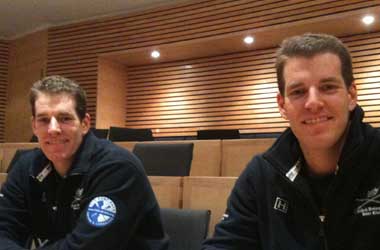 Cameron and Tyler Winklevoss tried once again to get their bitcoin exchange-traded fund (ETF) listed on a regular exchange. The proposal was shut down by the Securities Exchange Commission (SEC) and is now the second ETF proposal by the Winklevoss twins to be rejected.
The second proposal came to the SEC in June this year from the BATS BZX exchange. If it had been approved, the exchange would have been able to list and trade the fund's commodity-based shares.
However, it wasn't to be as the SEC voted against approving the ETF 3 to 1. The SEC rejection caused Bitcoin prices to drop below the $8,000 mark.
CNBC Television
The Winklevoss Bitcoin Trust submitted the first ETF application in 2017 and the SEC rejected it. The twins who run the Gemini Crypto Exchange made changes to their second application as they attempted to become the first ETF to be licensed on a regular exchange. However, the SEC found a number of holes in their proposal especially concerning the mitigation of fraud and investor protection. The SEC also disputed the claim that bitcoin markets like the Gemini Exchange are resistant to manipulation.
The SEC was quick to point out that their rejection of the proposal was not an evaluation of bitcoin or blockchain technology. However, the Commission emphasizes that it has a responsibility to ensure that investors are protected from fraudulent or manipulative practices. The SEC was very concerned about bitcoin fraud and the manipulation of its prices. With a majority of bitcoin trades happening offshore, the US regulator would have not as much control over the trades.
SEC Rejection Hurts Bitcoin Value
The SEC has so far not approved any cryptocurrency-based ETF. This is mostly because the SEC needs more assurance that the proposed ETF has high levels of investor protection. The Winklevoss proposal is not the only bitcoin ETF application that the SEC has had to review.
The VanEck SolidX Bitcoin Trust is still being considered and the SEC has not divulged any information about its chances of gaining approval.
When the news broke that the Winklevoss ETF was rejected, bitcoin prices slipped to $7,916.88. Bitcoin has witnessed dramatic fluctuations in price during the last 7 months and only in recent weeks began to increase in value. At the time of this writing, Bitcoin has fallen to $7,891.