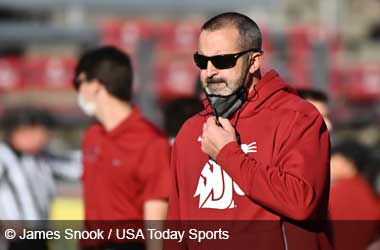 Washington State Cougars ended up firing the bulk of its coach staffing this week as they refused to vaccinate. The NCAA college team sacked head coach Nick Rolovich who wasn't willing to vaccinate due to personal reasons which he did not disclose.
The state of Washington has imposed a vaccine mandate like multiple states in America. The vaccine mandate came into effect from Oct 18 and since Rolovich wasn't vaccinated or willing to be vaccinated, he was terminated from a $3 million contract per year.
The head coach was terminated along with Mark Weber who served as the offensive line coach, Ricky Logo who was the defensive tackles coach, John Richardson who worked as the assistant head coach, and Craig Stutzmann who served as the co-offensive coordinate and quarterbacks coach. All four coaches were unvaccinated.
The sacking of Rolovich and four support coaches will leave a big hole in Washington State that will be hard to fill immediately. The Cougars have asked Jake Dickert who serves as the defensive coordinator to step up and take up the role of interim head coach till they intercollegiate team finds a replacement.
CNN
Washington State had a poor start to the season and was at 1-3 before they staged a comeback and win the next three consecutive games to bring it to 4-3. The Cougars next game is on Oct 23 against BYU and it will be a challenge for them to focus on the game at hand and play without half their coaching staff.
Washington State Players Will Hurt
Washington State are doing their best to see if they can get a new head coach hired quickly and have put the word out in the industry that they are looking for retired or out of work coaches who can come on board immediately. There are only 5 games remaining in the season and if they don't find someone quickly, Washington State will have to play with a depleted coaching staff.
This isn't fair to the players and in many ways also not fair to Rolovich and the four support coaches. While Rolovich took over the head coach role in 2020 and hasn't been with the team for a long time, he did have a bond with his players as did the other four coaches. The players will be hurting on the inside as they have been through some tough losses in recent years including the death of two players in Tyler Hilinski and Bryce Beekman.