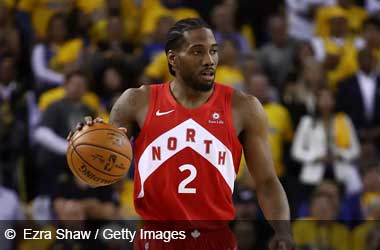 Kawhi Leonard who won the Most Valuable Player (MVP) of the Year award after taking the Toronto Raptors to their first NBA Championship is having quite an eventful time during the off-season.
Kawhi made the headlines in June when he decided to sue Nike over a logo infringement claim concerning the 'Claw Design' logo. He was also the center of attention during the trade-off as Kawhi decided to leave the Raptors and make a move to the Los Angeles Clippers.
Kawhi Leonard in his lawsuit claimed that he had submitted the Claw design to Nike who then claimed the design to be their own.
ET Canada
Nike decided to countersue and stated that the claims Kawhi made claiming that the Claw Design was his was inaccurate as the design was developed by a talented Nike team of designers.
The Nike counter lawsuit states
In his Complaint, Leonard alleges he provided a design to NIKE. That is true. What is false is that the design he provided was the Claw Design. Not once in his Complaint does Leonard display or attach either the design that he provided or the Claw Design. Instead, he conflates the two, making it appear as though those discrete works are one and the same. They are not.
Nike claims that the draft design that Kawhi provided the company is completely different to the Claw image that was developed in-house. The company submitted a couple of images to back up their claim. Nike alleges that Kawhi Leonard has deliberately violated the terms of their agreement and has asked the court for an injunction against the NBA All Star.
Nike And Kawhi Deal Arrangement
Kawhi Leonard and Nike entered into an agreement in 2011 and the partnership came to an end in 2018. However, the company alleges that Kawhi has continued to use the Claw logo that Nike developed on his non-Nike merchandise even though he is no longer under contract with them. Nike informed him to stop using the logo but he continued to use the same logo claiming that the logo was designed by him.
Leonard filed a lawsuit after he learnt that Nike had submitted a copyright application for the Claw logo. Nike has decided to countersue for damages recoverable and is going after the maximum amount the courts will award in addition to legal fees and other costs.