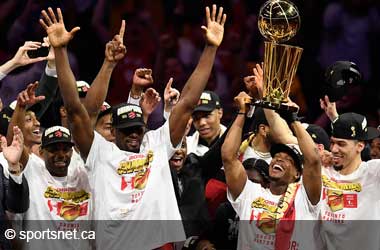 Kawhi Leonard led the charge to rally the Toronto Raptors to a 114-110 victory against the embattled Golden State Warriors in Game 6 of the NBA Finals on Thursday night, making history as the team lifted their first NBA championship in franchise history.
Despite the home court advantage at the Oracle Arena and the cheers of the Warrior's brazen fans, Stephen Curry fumbled a crucial three-point shot in the dying seconds of the game, effectively handing Game 6 and the crown to the Raptors.
With the Warriors calling a time-out they didn't have in the last second of Game 6, the Raptors tacked on a free throw off the technical, to seal the fate of the former back-to-back champions Golden State.
Point guard Kyle Lowry and Pascal Siakam contributed 26 points apiece for the Raptors, while Leonard and Fred VanVleet sank 22 each – including a dazzling five three-pointers fresh off the bench from the unassuming 25-year-old who also proved instrumental in defense, taming Curry throughout Game 6.
SPORTSNET
Injury-Plagued Warriors' Suffer
The Golden State Warriors have been marred by injury woes throughout the season, with Kevin Durant bowing out in Game 5 due to a ruptured right Achilles. The two-time Finals MVP had to undergo surgery this week, sidelining him from Game 6.
Klay Thompson scored the most for Golden State in Game 6 with 30 points, but had to leave the court after an alarming fall in the third quarter. He was taken to the hospital on crutches and was later found to have a torn ACL. There's no doubt that his absence turned the game heavily in the Raptors favour.
Andre Iguodala gave his best and scored 22 points but without KD and Thompson, it was always going to be a difficult feat. To make things worse for the Warriors, Curry did not have a good game and finished with just 21.
The nail-biting game featured a staggering 18 lead changes and nine ties, with neither team gaining an upper hand of more than nine points in the entire game, a testament to the grit of both the teams as tensions went down to the wire. However, the Warriors did not have the bench strength they required in the absence of their key players going down and it hurt them big time.
With the Game 6 victory, the mounted its third straight triumph on the Golden State's home floor, a sad farewell to the era of the Oracle Arena which will say goodbye to the NBA after 47 straight seasons!