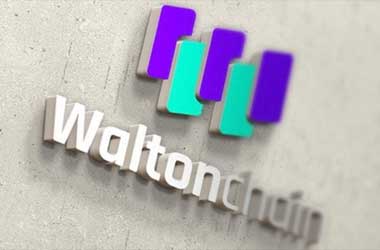 Waltonchain (WTC) has announced the creation of new child chain that specifically caters to the fashion industry.
The new child chain, dubbed as "Fashion Chain" aims to move the centralized fashion industry to a decentralized ecommerce platform.
Notably, the founders of Fashion Chain already have a database of 80 million users gained from their previous internet project related to fashion industry. Therefore, Fashion Chain has a head start that would enable them to progress rapidly. Using blockchain technology, Fashion Chain aims to solve the main issues faced by the fashion industry by providing four types of services:
Support all parties in the global fashion industry for point to point transactions and cross-border payments.
Provide traceability and copyright certification for fashion goods.
Issue exclusive tokens for designers, celebrities and fashion brands.
Build a blockchain version of "Alipay".
The traditional fashion industry consists of fashion leaders, fashion industry players, and fashion customers. The fashion trends are transmitted from top to bottom and form a pyramid structure. This allows fashion content to be easily plagiarized and the copyrights of designs cannot be effectively protected. This affects all genuine parties in the business. This long-standing issue is resolved by the use of blockchain and distributed storage technology.
As shown below, Fashion Chain has restructured the strongly centralized pyramid structure into a decentralized structure where all parties can communicate with each other directly.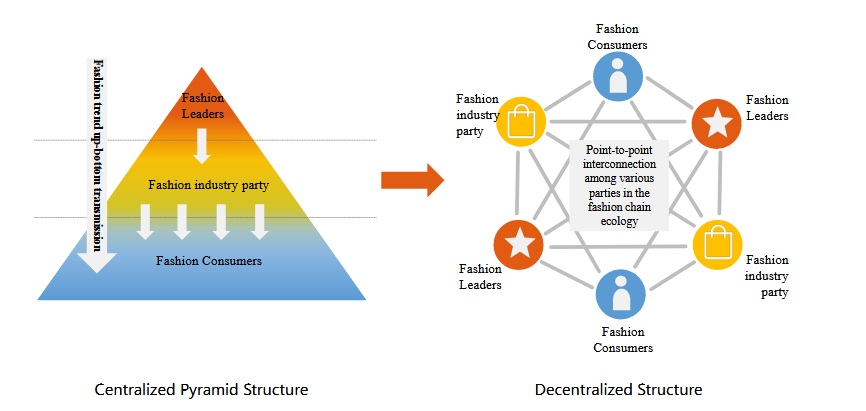 Fashion Chain will reconstruct a worldwide fashion content and consumption system. In this system, all users are free to publish, store and own fashion content (as well as fashion data behind the content), and distribute and trade value through digital assets, while potentiating fashion leaders, industry players and consumers, and reconstructing a reasonable distribution of interests among all parties in the fashion industry by the use of various blockchain infrastructure.
Waltonchain looks to revolutionize the fashion industry with newest child chain, Fashion Chain. Moving the centralized fashion industry to a decentralized ecommerce platform makes mass adoption one step closer. @Starinchain#Waltonchain $WTC #Fashionchain #Blockchain #Fashion pic.twitter.com/uuVEVv6jPc

— Waltonchain (@Waltonchain) June 8, 2018
For example, the design of a European designer is produced by a Chinese brand, endorsed by a Korean celebrity and purchased by consumers all over the world. Through Token cross-border payments, this series of processes can be quickly concluded in Fashion Chain.
Fashion Chain can also distribute exclusive Tokens for the ecological fashion copyright parties that have considerable influence, supporter groups and development potential such as fashion KOLs (famous designers, celebrities, etc.) and well-known fashion brands to help the development of their careers and make its supporters interests related by holding Tokens and grow together.
Fashion Chain (FASHION tokens)
Fashion Chain will issue tokens based on the ERC2.0 standard and the realization of ETH smart contracts. FASHION is the official Token of Fashion Chain, with a total of 200 billion pieces, and will never be additionally issued.
Use cases
Community incentive: Users publish and read content.
Users purchase fashion products.
Users pay pre-order margins.
Fashion mining machine for storage node unlocking.
Users reward each other and give gifts.
Brand owners pay traceability and anti-counterfeiting costs.
Brand owners pay copyright certification fees
Production companies pay quality guarantee deposits
Business-to-business transactions.
Companies or individuals that incentivize third parties to provide credit services, system development support, community governance, etc.
Income sources
Fashion Chain Income sources
User purchase transaction commission.
Advertising revenue.
Traceability and anti-counterfeiting business.
Copyright certification business.