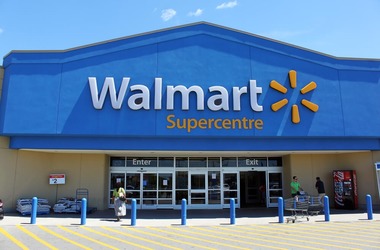 The document published by the US Patent & Trademark Office (USPTO) indicates that Walmart is seeking patent for a blockchain based delivery system. The patent titled "Systems, Devices, and Methods for In-Field Authenticating of Autonomous Robots" describes a system that facilitates running "in-field authenticating of autonomous electronic devices" to ensure secure deliveries.
The patent document states that
"[i]n exemplary embodiments, two autonomous electronic devices, such as delivery drones or household autonomous robots, can authenticate each other using embodiments of security procedures described herein."
Filed by Arkansas-based Wal-Mart Stores Inc in January 2018, the patent document explains a system of operating numerous robots or drones that deliver packages across the supply chain. The system operates on wireless signals that facilitate "blockchain-powered secure authentication of electronic devices' identities."
The patent application has mentioned that the use of blockchain technology will enhance the process of authenticating and storing signals and data, which is always the prime target of hackers.
"Updates to the blockchain may comprise authentication signals or identification information, and one or more nodes on the system may be configured to incorporate one or more updates into blocks to add to the distributed database."
Walmart has filed a number of blockchain-related patents in the US last year. The retailer mainly uses blockchain technology to make sure that it does not lag behind its rivals when it comes to the implementation of latest technology to improve the quality of services.
The company recently made a patent filing for managing smart appliances using blockchain. Likewise, in mid-July, Walmart patented a blockchain based delivery management system that can keep items safely until their legal owners sign and collect them.