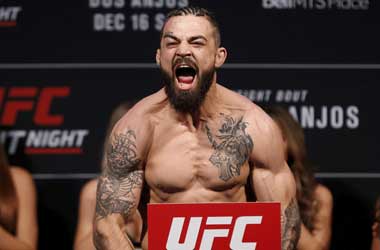 Conor McGregor got massive flak when he hit an old man at an Irish pub and it's now Mike Perry's turn to get criticized on social media after video footage emerged of the UFC fighter getting into an altercation at a restaurant in Lubbock, Texas which resulted in him punching an old man.
There is no clear information as to why Mike Perry became enraged at a restaurant and had to be escorted outside. He was with his girlfriend Latory Gonzalez and got into words with the restaurant staff as well as some of the patrons. From Perry's language, it appears that someone put their hands on him and that infuriated him.
An older gentleman tried to get into Perry's face outside the restaurant and looks to push Perry away. The UFC welterweight fighter then reacts and throws a right hook which takes down the old man. Perry would then go on to swear and use the N word multiple times as he waits for the cops to arrive.
MMA News Depot
The police did not arrest Perry at the scene but charged him with a misdemeanour. He will have to show up in court and could face a fine of $500.
Perry's Mental Health A Concern
Mike Perry won his fight against Mickey Gall on June 28 and created quite a stir in the MMA world as he only had his girlfriend in his corner. Perry likes to document his life on social media and recently split from his wife Danielle Perry who continues to keep her last name.
If you follow Platinum Mike Perry on Instagram, you can tell that his personal life has fallen apart and it has taken a toll on his mental health. A look at his Twitter feed or Instagram posts will tell you that the trolling he gets on social media has got the best of him and the consequences are showing.
Perry appears to have moved on from his marriage and his social media posts clearly show that the new girl is now his entire world. However, that appears to be a farce to cover up a lot of the hurt and emotional pain that he is masking.
It might be time for the UFC to step in and see if Mike Perry needs some help before things spiral out of control.