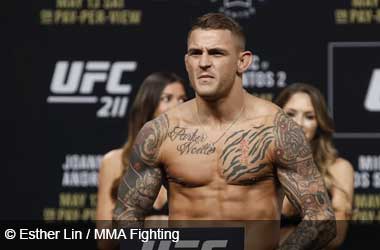 MMA fans were looking forward to UFC254 as it was turning out to be the best fight card that the UFC scheduled in 2020. UFC254 is set to take place at Fight Island in Abu Dhabi on October 25.
The Main Event features Khabib Nurmagomedov defending his lightheavyweight strap against interim champ Justin Gaethje. Some of the other fights on the card include former middleweight champ Robert Whittaker taking on Jared Cannonier, Rafael dos Anjos vs. Islam Makhachev and Walt Harris vs. Alexander Volkov.
The one fight that was yet to be confirmed but many expected to be the co-main event was Dustin Poirier vs. Tony Ferguson. The winner of this bout would be next in line for a title shot.
Full Mount MMA
Earlier in the week, Dustin Poirier stated that he was down to fight Tony Ferguson at UFC254 but needed the UFC to pay him what he thought was right. Poirier made it clear that he was a Prize Fighter and the prize needed to be right for him to step in and face a competitor like Tony Ferguson.
Tony Ferguson had verbally agreed to the fight but did not sign a contract. The UFC and Poirier held talks to see if they can reach an agreement but in the end Poirier was not happy with what was being offered and decided to back out. He took to social media to inform his fans that he will not be fighting at UFC254 as he could not reach an agreement with the UFC.
This will be a big disappointment to fight fans as the fight between Poirier and Ferguson is almost as exciting as the fight between Khabib and Gaethje. The UFC will also be disappointed to not be able to make this fight as reports suggest that they would have asked Ferguson to step up and face Khabib if anything happened to Gaethje. If anything happened to Khabib, they would have asked Poirier to step up and face Gaethje.
UFC Continues To Battle Fighter Pay
The UFC has continued to have multiple issues with fighter pay and lose out on some big fights because fighters like Jon Jones, Nate Diaz, Jorge Masvidal and Colby Colvington have refused to fight without being paid what they asked for.
UFC President Dana White has played down these failed negotiations stating that this is part of the fight game and that the promotion would not force anyone to fight, if they don't want to.
Don't forget to keep an eye on our exclusive betting section nearer the event date as we will break down the latest odds ahead of the fights.