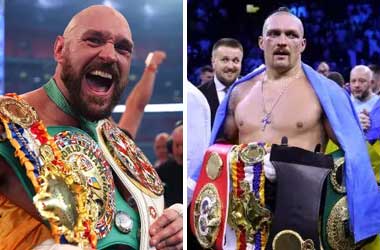 Summary
Tyson Fury and Oleksandr Usyk are using Instagram to negotiate a contract!
Fury offers Usyk a 70/30 fight purse and Usyk accepts with one condition
Fury and Usyk contradict each other over rematch contractual clause
Tyson 'The Gypsy King' Fury who is the WBC heavyweight champion of the world and Oleksandr Usyk who is the WBA, IBF, and WBO heavyweight champion of the world continue to stall on signing a potential contract that will see the two fight each other on April 29 at Wembley Stadium, England which is something UK bookies are looking forward to.
Tyson Fury's promoter Frank Warren said last week that if the two camps did not sign the contract before March 12, it would be difficult to get the fight done on April 29. March 12 has come and gone but the two fighters continue to tease fans on social media as they publically negotiate the terms of their contract via Instagram!
Fury Offers Usyk A 70/30 Fight Purse
Oleksandr Usyk's camp were earlier pushing for a 50/50 fight purse on the basis that Usyk holds 3 belts while Fury holds just one. However, the Gypsy King is clearly the A side in this fight and were not willing to do a 50/50 split.
Fury who has 5.8 million followers on Instagram told Usyk that they were willing to offer him a fight purse that had a 70/30 split and this was a onetime offer only! Fury told Usyk that if he wanted to fight on April 29 in Wembley Stadium, he had to accept these conditions as final.
Usyk who is from Ukraine has 1.8 million followers on Instagram responded to Fury's offer and said he accepted it on one condition. Usyk has asked Fury to donate 1 million pounds to his countrymen in Ukraine who were battling poverty. Usyk said for every day that Fury delays to transfer the 1 million founds, he wanted 1 percent of his fight purse to be added to the transfer.
Belly @Tyson_Fury Deal !?? pic.twitter.com/X1IoWF5zgY

— Alexander Usyk (@usykaa) March 10, 2023
Fury and Usyk Argue About Rematch Clause
Fury responded via another Instagram video and called Usyk out for wanting a rematch clause inserted in the contract. Fury claims Usyk wants the rematch clause because he knows he will lose the fight and wants to protect himself to have another payday. Fury asked Usyk to forget the rematch clause and just done a one and done fight deal!
🚨 TALK ABOUT UPPING THE STAKES🚨 @usykaa pic.twitter.com/1eOUqQ6efv

— TYSON FURY (@Tyson_Fury) March 13, 2023
Usyk responded by calling Fury a liar saying that his camp had no demands for a rematch clause. We should get a better picture by the end of this week, if this mega boxing fight will materialize on April 29 or fall through!
Hey #greedybelly the rematch clause came from your side not mine.
Stop whining and ducking. Be a man, ink the contract or vacate the belt. I need undisputed and not to play your stupid games 🦆🦆🦆@Tyson_Fury pic.twitter.com/u9DaoX2fr4

— Alexander Usyk (@usykaa) March 13, 2023