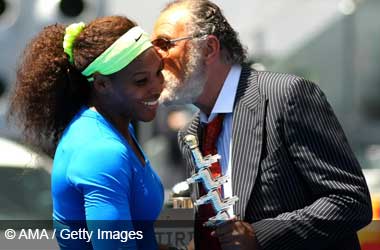 Serena Williams is royalty in women's tennis as she has established herself over the years to be one of the best to have ever graced the courts. The American superstar has 23 Grand Slam titles to her name and is only one behind the great Margaret Court who has 24.
Williams has tried hard for the last couple of years to win another Grand Slam and tie that record but she has fallen short. However, the 39 year old has not quit and continues to play in pursuit of that goal, although she may not admit it openly.
Serena Williams took part in the 2020 Madrid Open tournament and did not have a good showing.
Losing is part of the game and Williams appeared to have taken it in stride but faced a tirade of criticism from Madrid Open owner and billionaire Ion Tiriac.
Tiriac admitted that Williams was a sensation player but that was 15 years ago. He then made some very strong remarks claiming that at the age of 39 and given her current weight, she can no longer move as quickly as she did in the past. The 81 year old billionaire then went on to say that if Williams had a little decency, she would retire immediately.
Interestingly, this is not the first time that Tiriac has taken a dig at Williams and made mention of her weight. He did something similar in 2018 which offended Serena Williams who went on to call him out for being sexist and ignorant.
Williams took over a year off from the game when she fell pregnant and gave birth to her first child. It was a complicated pregnancy and Williams admits that she nearly died in the process. However, she was determined to get back to playing tennis after becoming a mother but has been unable to be at her very best.
Trailblazers
Williams Husband Lashes Out At Tiriac
Alexis Ohanian who married Serena in 2017 lashed out at Tiriac on social media. Ohanian said that he could not keep quiet when Tiriac deliberately went after his family and called Tiriac a sexist and racist clown.
Ohanian also said that no one was really interested in what Tiriac had to say and labelled him a disgusting person. Tiriac also drew criticism from social media users who felt that he stepped over the line in criticising Williams.