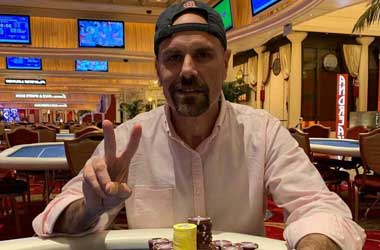 In July 2021, news broke that the Borgata Casino in Atlantic City was facing a lawsuit from poker player Scott Robbins. The lawsuit was over an alleged 'suicide joke' that Robbins made at the hotel reception in September 2020 while checking himself into the Borgata to play the $3,500 WPT Borgata Main Event.
Robbins is alleged to have joked with the receptionist what would happen to him if he jumped from a window on one of the higher floors. He also asked the receptionist if he would make it if he jumped out from a window on one of the lower floors. The receptionist allowed him to check into his room but reported his conversation to security.
Hotel security would go on to storm his room and ask him to either leave the property immediately or take a psych evaluation.
Robbins ended up going to the hospital and taking a psych evaluation which proved that he was he in his right mind. However, the Borgata wasn't having any of it and issued a lifetime ban from entering their premises and also banned him from playing the $3,500 WPT Borgata Main Event.
The US Poker player did not take the matter quietly and decided to file a lawsuit against the Borgata as he felt that he was wronged. He paid for the ambulance charges and also for the psych evaluation and felt once he was given the all clear, the matter should have ended and he should have been allowed to play at the $3,500 WPT Borgata Main Event which he qualified for via a $400 satellite.
Robbins filed multiple charges against the Borgata in a New Jersey Superior Court which included false imprisonment, breach of contract, libel, defamation and slander. The lawsuit against the Borgata was for $1.25 million in damages.
Lawsuit Dropped Amicably
The Borgata who has had dealings in the past with other poker players pushed for the case to be heard in Federal court and won the challenge to do so. The case was to be heard on Sep 20 in a U.S. District Court of New Jersey. However, reports have surfaced that the case has been dropped by Robbins after the two parties reached an amicable agreement.
There was no information provided as to whether the Borgata paid Robbins a settlement or how much was paid. However, based on the statement which claimed the claims have been amicably adjusted it does appear the Robbins was compensated in some way for him to drop the charges.