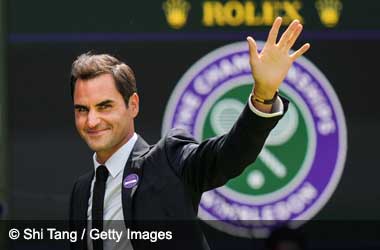 Summary
Roger Federer will retire from tennis after a 24 year long career
His professional tennis career will end in the upcoming Laver Cup
Federer made the decision after suffering multiple injuries over the past three years
The 'GOAT' Roger Federer is retiring from the sport he has dominated for close to two decades after much.
The tennis legend has announced on his social media pages that the Laver Cup in London will serve as the final tournament of his illustrious career.
In his statement, Federer said the series of injuries and surgeries he has gone through over the past few years has taken a toll on his physical health despite him working hard to return to full competitive form. This was also the main reason why he was unable to participate at the Tokyo Olympics and in eight of the last ten Grand Slam tournaments.
To my tennis family and beyond,

With Love,
Roger pic.twitter.com/1UISwK1NIN

— Roger Federer (@rogerfederer) September 15, 2022
— Roger Federer (@rogerfederer) September 15, 2022
Federer's Tennis Record
Federer is widely regarded as one of the greatest and most accomplished tennis players of all time, with 20 Grand Slam singles titles, eight men's singles Wimbledon titles, and five men's singles US Open titles. Federer has triumphed in several other major tournaments, including the Davis Cup and the Olympics.
He holds the record for the most wins in the Association of Tennis Professionals (ATP) year-end championships with six. The ATP also ranked him world No. 1 for a record 237 consecutive weeks. Overall, Federer has won 103 ATP singles titles, trailing only behind American player Jimmy Connors who has 109.
Alongside Novak Djokovic and Rafael Nadal, Federer has been a force to be reckoned with in the modern era of tennis.
Tributes Pour In for Federer
Social media has since been flooded with tributes for Federer after announcing his retirement from the sport.
Former world No.1 tennis player Billie Jean King considers Federer "a champions champion" with the most complete game of his generation. Denis Shapovalov said Federer has been a role model for him and many others, and fellow Canadian tennis star Milos Raonic couldn't agree more, saying the Swiss pro has done more for the sport than any single individual.
Federer has described his tennis journey as deep, magical, and an incredible adventure. He thanked all of those who have supported and believed in him through the years.
Federer will no longer be competing in major tennis tournaments which can be bet on but he won't completely turn his back on the sport, saying he intends to still "play more tennis" but not on the tour. All eyes will be on the upcoming Laver Cup which will mark the end of Federer's professional tennis journey. It will take place from September 23-25 at the O2 in London.