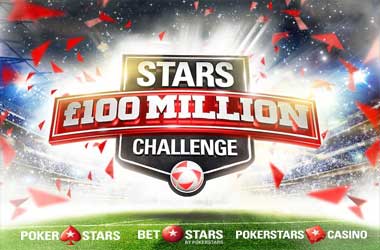 The 2018 FIFA World Cup is a week away from starting and sports fans and gambling enthusiasts are already heading to any of the Stars Group platforms to translate their football fanaticism into a possible million-dollar win.
In celebration of the 2018 FIFA World Cup, PokerStars, BetStars and PokerStars Casino is holding two football-themed promotions on their site where a lucky player can go home with either £100 million or $100 million, depending which path they decide to take.
To get a shot at the £100 million, you can test your sports knowledge and prediction skills at The Stars £100 Million Challenge.
Players from Denmark, Sweden, Norway, Finland, and the United Kingdom (except for those located in Gibraltar and the Isle of Man) can test their football knowledge and predict the outcome of all 64 games in the World Cup. If you accurately predict the outcome of all 64 games, you take home a whopping £100 million. If more than one person accurately predicts the outcome of all 64 games at the 2018 World Cup, the prize will be divided amongst the winners.
BetStars
FIFA World Cup Betting Odds
Right now, Brazil, Germany and France are the top three teams who are predicted to win the World Cup trophy. Defending champions Germany have been the favourite to win the world cup for a number of months but that sentiment is slowly shifting and Brazil is now being favoured by a lot of punters as the favourite. They boosted this sentiment after scoring two goals against Croatia in a recent friendly game and showing that they are in good form in the lead up to the tournament.
France is in third place as the football analysts believe that France has a good enough squad to win the world cup. They will need all of their players to perform and good team work if they are going to challenge the likes of Germany and Brazil and come out on top. Spin & Goal Tournaments
But if you're not particularly confident about your football knowledge to accurately predict all games in the upcoming World Cup, you can always try your luck instead and play the special $5 Spin & Goal tournaments at PokerStars. These games play like your normal Sit & Gos, with multipliers from 2x to as huge as 240,000x, and one player can be lucky enough to win $1 million. The second and third place will be walking away with a far $100,000 each.
Spin & Goal freerolls will be running every hour round the clock at the website until July 23. Those who are new to PokerStars and have signed up since June 1 would already have five Spin & Goal freerolls credited in their accounts and ready to play. Existing players can still get a couple of free spins by entering the code "SPINGOAL" to claim two freeroll tickets.