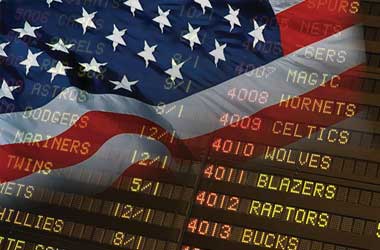 Legalized sports betting has become a hot topic across the country since the takedown of the PASPA ruling in May 2018.
Most states are still working towards getting a legal operation set up in their respective states, while some already have legal sports betting operations, but are working towards expanding or progressing their in-state operations.
Regardless of whether a state is trying to legalize sports betting for the first time, or trying to add online/mobile platforms to their state sports betting operation, one thing is for sure, there is no shortage of news each week across the US legal sports betting spectrum.
Mobile sports betting progress in Rhode Island
Rhode Island remains the only New England state with legal sports betting. Now The Ocean State is looking to further distance itself from the rest of the neighbouring competition.
Senate President Dominick Ruggerio (D-District 4) fulfilled his promise this past week to introduce a bill that would legalize online and mobile sports betting in Rhode Island. Ruggerio, who has been a big proponent of sports betting, introduced SB 37 on Wednesday, January 16.
The bill was immediately referred to the Senate Special Legislation and Veterans Affairs Committee.
Some key points in the bill are:
Players must register in-person in order to bet through mobile/online platforms;
Placing bets on Rhode Island college sports, or college sporting events that take place in Rhode Island is prohibited;
The Rhode Island Lottery would become the regulatory body (already regulates physical sportsbooks);
Allows for 24/7 sports betting
Kansas representative wants to limit sports betting venues
Representative Stan Frownfelter (D-District 37) filed a bill last week that would limit sports betting locations in Kansas to only horse racetracks. Frownfelter filed HB 2032 on January 16. The small, four-paragraph bill doesn't include any details in regards to taxes, fees or other frameworks for setting up sports betting in the state.
The heart of the bill states that sports betting shall be
conducted solely on the premises of a racetrack gaming facility and shall be managed and operated by one or more racetrack gaming facility managers.
Pennsylvania's first report shows great numbers
According to the Pennsylvania Gaming Control Board's monthly report for December, state sportsbooks took in $16.1 million in handle and $722,000 in tax revenue. Among the three casinos with a legal sportsbook in Pennsylvania during the month of December, there was no real clear cut standout in terms of handle.
Rivers Casino (Pittsburgh): $5.6 million (opened Dec. 13, 2018)
SugarHouse (Philadelphia): $5.3 million (opened Dec. 15, 2018)
Hollywood (Grantville): $5.1 million
The Hollywood Casino at Penn National Racecourse was the only of the three casinos to be open the entire month of December. However, due to its location not being in a major metropolitan area, their numbers still fell behind the Rivers and SugarHouse casinos, despite them only being operational half the month.
Since the end of 2018, two more Pennsylvania casinos have begun to operate a sportsbook, Parx Casino and South Philadelphia Turf Club. Two other casinos have applied for sports betting certificates, Presque Isle Downs and Valley Forge.
Pennsylvania's December numbers only account for physical sportsbook numbers, as online and mobile platforms have yet to begin in Pennsylvania. The idea was that online/mobile betting would be available in Pennsylvania sometime during Q1.
However, last week the Department of Justice reversed a 2011 opinion on the Wire Act, which could hinder Pennsylvania and other states looking to offer mobile sports betting. This could delay the state's expected online sports betting launch of spring 2019.
On Friday, January 18, PA Gaming Control Board Executive Director Kevin O'Toole released a memo to casinos informing them to "provide plans for complying with the Wire Act, as now interpreted, within the next 30 days" The memo also emphasized that all gaming operations "must now be entirely intrastate"
Other top stories this week across the country
Five bills were introduced in Massachusetts this week, including one from the governor. Multiple bills include the implementation of online and mobile sports betting in the state.
A third Missouri bill was filed last week. The bill calls for a 6.75% tax rate and allows for mobile betting in the state.
North Dakota's first sports betting bill was introduced last week. Representative Jason Docktor (R-District 7) filed HB 1254. The bill is to simply legalize sports betting in North Dakota
DraftKings faces a class-action lawsuit over sports betting championship event. The lawsuit seeks a refund for participants of its Sports Betting National Championship, as well as damages as a result of "mayhem" in the way bets were accepted during the event. The entire complaint can be read here.