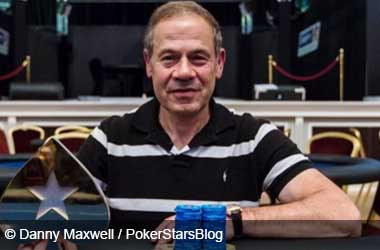 After almost a decade, the Black Friday saga is finally put to rest. Isai Scheinberg, the founder of PokerStars, escaped jail time after being sentenced to time served and a fine of $30,000 on September 23. The 74-year-old was the last poker executive to surrender to federal authorities after being indicted for fraud and money laundering charges arising from the darkest day in the history of online poker.
In handing out the sentence, Judge Lewis A. Kaplan of the Southern District of New York reportedly said that while Scheinberg committed mistakes, it "should not ruin" the remainder of his life.
The former PokerStars executive should have served up to 18 months in jail in accordance with the US Sentencing Guidelines, but the government eventually recommended a minimal sentence partly due to the fact that following Black Friday, PokerStars assumed the financial liabilities of Full Tilt Poker and Absolute Poker, amounting to approximately $304 million and returned it all to the players, an act considered as a "good deed".
Manx Radio
Reacting to the sentence, Scheinberg highlighted PokerStars' "honest and transparent" operations which he said had a major contribution to creating the global regulated online poker industry of today. Scheinberg takes pride in the fact that the online poker operator never let its American players down when it left the US market in 2011, returning all of their funds.
Final Chapter
The indictments come as a result of the passage of the Unlawful Internet Gambling Enforcement Act (UIGEA) which came into force in 2006. PokerStars, alongside other online poker sites continued operating even after that legislation was enforced, leading to their domains being seized five years later. Scheinberg immediately left the US and avoided the federal authorities while his co-defendants were facing prosecution.
In January 2020, he eventually returned to New York from Switzerland, after almost a decade of going into hiding. Scheinberg was taken to a court in Manhattan where he pleaded guilty.
The Israeli-Canadian executive founded PokerStars in 2001 alongside his son Mark. Pokerstars has grown to become the world's largest online poker site. The Scheinbergs later sold it to Amaya Gaming in 2014, under a $4.9 billion deal. With Scheinberg's sentence, online poker's darkest chapter now comes to an end.