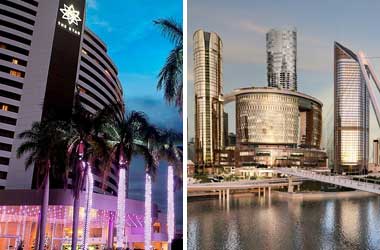 Summary
Star Entertainment was found unsuitable of maintaining its Queensland license
Attorney-general Shannon Fentiman found too many shortcomings by Star
Star has 3 weeks to file an appeal against the AG's decision
Australia's Star Entertainment Group continues to face challenging times in the country. Attorney-general Shannon Fentiman deemed the group incapable of retaining its Queensland casino license. Star will have to respond to the Office of Liquor and Gaming Regulation's (OLGR) show cause notice in 21 days, citing reasons for its eligibility to hold a license.
Gotterson Report Might Tarnish Star's Image
The attorney general's findings supplemented the report authored by ex-Court of Appeal judge Robert Gotterson. The report revealed the group's numerous transgressions and its focus on profit without regard to regulatory compliance. Currently, the company runs two casinos in Queensland which are based in the Gold Coast and Brisbane. The Brisbane casino license was slated to be transferred to its Queen's Wharf property in 2023.
Gotterson's report also recommended measures such as paid regular investigations into casino operators, transaction limits, cashless gaming, mandatory carded play, and amending the state's casino laws. The Gotterson probe investigated Star's lack of compliance with the country's anti-money laundering/ counter-terror financing (AML/CTF) laws.
The Queensland regulator is conducting its own investigation into Star's Hong-Kong based shareholder Chow Tai Fook. Fentiman ordered the OLGR to investigate Chow Tai Fook given rumors of its association with organized crime figures. Fentiman will release the findings soon. In response to the Gotterson report, Star said that it was considering the documents and intended to cooperate with the OLGR probe.
Fentiman announced the review in June 2022 after Star faced the Bell inquiry in New South Wales (NSW) about AML/CTF violations. The Gotterson report criticized the OLGR for not being vigilant while probing Star. The ex-judge rebuked the casino operator for misrepresenting the situation. Gotterson suggested the appointment of a special manager to oversee Star's operations in Queensland, akin to Victoria. Western Australia (WA) also passed a law to appoint a manager.
Star's Response to Decide Its Fate
Star's fate depends on its response to the regulator's show-cause notice. Fentiman said that the government could cancel the company's license or impose a hefty fine of about $100 million after it answers the notice and mentions its reasons for wanting to continue to hold its Queensland license.
The government might look for any other operator to step in if Star loses its license. The company was found unsuitable to hold the license for its Sydney casino by the Bell inquiry. Star's acting chief executive officer Geoff Hogg resigned from the post in September after the Bell inquiry released its findings.