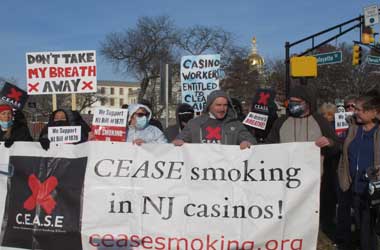 Smoking has long been a point of contention among employees of casinos and their employer.
For decades, casinos have allowed smoking indoors, while other businesses have banned the activity. For the past few years, anti-smoking advocates have pressured lawmakers in New Jersey to fully ban smoking similar to other Casinos around the world so employees can avoid major health issues.
The Casino Employees Against Smoking Effects (C.E.A.S.E) have recently come out asking Governor Phil Murphy to support new legislation that would ban the activity in Atlantic City casinos.
CEASE wants to see Murphy do more than say he would sign legislation if it reached his desk involving a smoking ban.
The employees of the group wish to see Murphy speak out in support and get other lawmakers on board with passing legislation. Earlier this month, a new bill S264 was introduced that would permanently ban smoking in casinos.
Co-founder of CEASE, Nicole Vitola, says that movement is needed, and the group is reaching out to senators in the hopes of having them cosponsor or at least understand what needs to be done to move forward.
Casino Association of New Jersey president Joe Lupo has spoken out on the matter, stating that if smoking were banned completely, it would put the industry at a major disadvantage. He says that smoking is only permitted within 25% off the casino floor which equals to 10% of the total gaming properties.
He says the long-term financial implications are not viable as it would cause a decline in tax revenues that go towards Atlantic City and the state. For employees, they feel that their health should take precedence over revenues.
No-Smoking During COVID-19 Pandemic
CEASE along with other anti-smoking advocates in New Jersey have pointed out that smoking was banned for about a year after the COVID-19 pandemic began. The activity was just allowed again starting on July 4, 2021.
Smoking was banned due to the highly transmittable nature of the COVID-19 virus. Because the virus could spread through respiratory droplets, smoking was not allowed indoors for fear of furthering the spread.
Anti-smoking advocates point out that casinos were just fine operating without smoking during that time frame. It did not keep people away or affect the bottom line. Of course, the venues were dealing with restrictions at the time so earnings were lower, but it does not appear as though the temporary smoking ban had anything to do with that.
For now, it is unclear if the governor will show more support for the anti-smoking measure. The bill is going to the state Senate health committee for further consideration. We shall see in the coming weeks if it gains any headway or if it is unable to move forward as the employees would like to see.