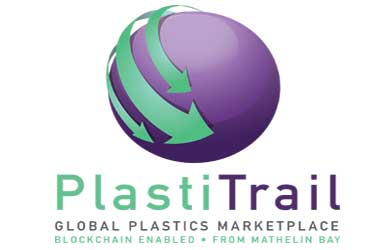 Traders of plastic resins, plastic scrap, and plastic compound face several barriers in establishing links with a reliable partner. Lack of transparency and trust continues to haunt the growth of the $1 trillion global plastic market. The situation is going to change with the arrival of blockchain technology based global market place exclusively for plastics industry.
Mathelin Bay Associates LLC, a global plastics industry consulting firm serving processors and investors, is working on a blockchain technology-based online plastics marketplace, known as PlastiTrail.com. The platform will be made available for industries at the start of NPE 2018, North America's largest plastics trade show (Booth S11022), on May 7, 2018.
As in the case of other blockchain technology based platforms, plastics sales contracts executed on PlastiTrail.com cannot be modified or destroyed. This will ensure that issues related to quality or any other shipment terms can be resolved quickly, thereby leading to cost savings and better efficiency. Notably, the origin of individual plastics shipments can be traced, leading to the sales of higher-value-added plastics.
The use of blockchain technology will also assist in providing regulatory documents such as the product origin in a secure and tamper free format. For example, the blockchain platform will be enable its users to provide documents that comply with the California Rigid Plastic Packaging Container Act's provision for a minimum percentage of post-consumer recycled plastics content in various plastic products sold in California.
The platform will also facilitate sellers to transact in the brand name, instead of selling general plastics. By supplying quality plastics on time and as per the contract, sellers can earn a high rating for their transactions, leading to a higher demand for the offered product.
Phillip Karig, Mathelin Bay's managing director, said
"PlastiTrail.com is all about building trust and transparency between plastics buyers and sellers. The PlastiTrail blockchain will provide a secure record of plastics contracts entered into on the marketplace, including any certifications, technical data sheets, photographs and other representations which will be duplicated, published, stored and encrypted at multiple locations around the world."
About Mathelin Bay
The consulting firm is 100% dedicated to plastic industry. All Mathelin Bay procurement professionals have at least a decade of experience in the national or international plastics processing or manufacturing firms having sales of at least US $ 250 million to over US $ 1 billion per year.
Mathelin Bay services
Mathelin Bay assists private equity firm or family office with an investment in a plastics processor to increase return on investment. The company also offers an international perspective to resin buying to industries located in North America and Europe. Furthermore, the company offers a no cost, no obligation, review of a company's buying situation. After review, Mathelin Bay will recommend approaches and alternatives that can lower costs, both in the short-term and on an on-going basis.