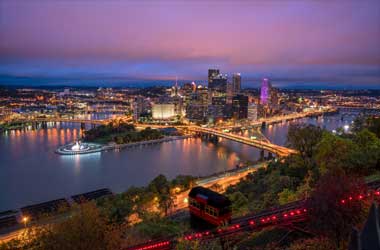 The month earned over $30 million more than the previous record in November.
Year-over-year totals increased by 14%.
The new record was boosted by table game and online earnings.
The licensed commercial casinos in Pennsylvania are doing quite well, with March revenue totals showing a nice recovery and hitting a new monthly record for the state.
Over $462.7 million was generated last month, with state regulators reporting the totals were more than $30 million over the record set in November 2021.
The Pennsylvania Gaming Control Board recently released the revenue totals, revealing that March 2022 was 14% higher than the same month last year, with over $59 million in additional earnings.
The new record helps to boost the state after a few months of a downward revenue trend.
Boosted by Table Games and Online Earnings
It seems as though two sectors of the industry helped to increase earnings. First, we have the table games. Players were at the felt quite a lot in March, with earnings topping the $90 million mark. This is quite high and helped to increase the overall earning total.
For online gaming, players were logging in at full force, with revenues moving past the $110 million mark. This was the first time that online earnings hit this milestone and table games were also at record numbers. Combine these two with other totals and you have a record-setting combination.
Daily Fantasy Sports and sports betting were up this month as well. The DFS industry earned $187 million, while sports betting earned $1.8 million. This is a huge boost from February when $1.2 million was earned. When combining retail and online sports betting, the state brought in $32.7 million.
Big Earners for the Month
Out of the 16 operating casinos in Pennsylvania, it was the Hollywood Casino that brought in the most revenues. Operated by Penn National, the casino earned over $63 million for the month. This was a huge boost in earnings and the brand outpaced its competitors by tens of millions in earnings.
The Rivers Casino Pittsburgh generated over $35 million with slot machines bringing in the bulk of the earnings at over $24 million. Hollywood Casino at the Meadows generated just over $20 million with $13.9 million brought in from slot games. The casino had a huge boost in sports betting earnings, bringing in $4.4 million. This was much needed after the casino lost over $3 million in March from bets.
In total, the 16 casinos generated over $214 million from slot games last month in land-based play. Retail table game earnings came in at over $94 million. In the online sector, over $79 million came from slot machines while $35.6 million was provided by online table games. Online poker pulled up the rear with $3.2 million in earnings.
It will be interesting to see if this momentum will continue through April and May or if March was just a fluke month that brought in a ton of cash for the state.