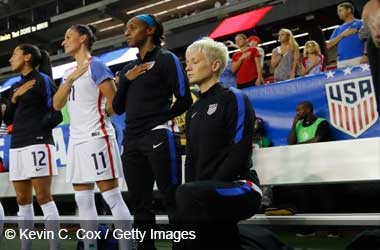 The brutal killing of African American George Floyd at the hands of a white police officer on May 25 in Minneapolis, Minnesota has sparked widespread protests all over the world, especially in the United States where the #BlackLivesMatter movement has gained new momentum.
A number of high profile players have taken to social media to throw their support behind BLM and so have a number of major sporting leagues in the country.
Major League Soccer (MLS) became the latest league to support BLM and took a major decision last week when the league decided to repeal Policy 604-1.
When US female white soccer star Megan Rapinoe decided to take a knee to support NFL's Colin Kaepernick's decision to take a knee during the National Anthem in show of support for black Americans who are subject to police brutality, the US soccer federation came down hard on Rapinoe and passed a policy to force players to stand during the national anthem.
War Room 2020
The U.S. Soccer Board of Directors decided that they had made a wrong decision in forcing their players to stand for the National Anthem and believes that it did removed support for the BLM movement.
The policy has now been removed which means U.S soccer players will no longer be required to stand for the National Anthem. The federation apologized to both players and fans for playing down the importance of BLM and said that its new stance is to listen to both players and fans while doing their best to educate and eradicate racism.
MLS went a step further and said that they will no longer play the US anthem during their games which they aim to restart from July 8th.
Trump Disowns U.S Soccer
However, President Donald Trump has not changed his stance and still believes that one must stand and show respect when the National Anthem is played. He came down hard on the NFL in the past and asked Americans to stop watching the NFL when their players decided to take a knee.
Trump said that he decided he will not be watching the NFL and MLS anymore due to their stance on the National Anthem. Florida congressman Matt Gaetz also lashed out at the U.S soccer federation stating that they should not represent the United States going forward since they were not willing honour the flag nor the anthem!