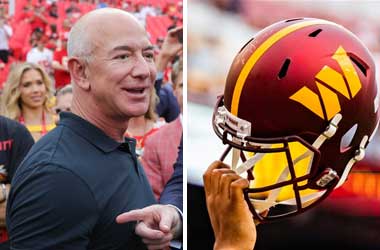 Summary
NY Post reports that Amazon founder Jeff Bezos wants to acquire the Washington Commanders
Bezos might end up selling the Washington Post to buy the Washington Commanders
Current owner Dan Snyder is allegedly not keen on selling team to Bezos
Current team owner, Dan Snyder isn't very keen on selling his NFL franchise but was put under pressure by the NFL and other franchise owners to sell the Commanders and move on after media reports showed that Snyder fostered a toxic work culture at the Commanders that included sexual harassment.
Jeff Bezos Could Acquire Washington Commanders
The Washington Commanders hired investment bank 'Bank of America' to carry out an auction that is expected to fetch upwards of $6 billion. The NY Post has reported that Amazon founder Jeff Bezos who has previously been linked to the upcoming sale of soccer team Manchester United could make a bid to acquire the Commanders.
Bezos is currently ranked the 4th richest man in the world with an estimated net worth of $120 billion. The NY Post claims that Bezos is looking to sell the Washington Post which he acquired for $250 million in 2013 and buy the Washington Commanders.
The Washington Post announced in Dec 2022 that it was laying off staff and Bezos paid a visit to the office mid-Jan which created more tension among the staff about potential layoffs.
Bezos hasn't made an official statement to confirm his interest in acquiring the Washington Commanders but has hinted in the recent past that he could be interested. Bezos told CNN during an interview in November that football was his favorite sport and his partner Lauren Sanchez followed that up by saying "I do like football — I'm just going to throw that out there."
Dan Snyder is expecting an offer of over $7 billion for the Commanders but that could be a little too high as the best offer that came through during first round bids was for $6.3 billion. This is one reason why Bank of America appears to be very keen on getting Jeff Bezos to make a bid for the Commanders!
Dan Snyder Not Keen On Selling To Bezos
The NY Post article claims that Snyder suspects that Bezos used the Washington Post to go after him and the Commanders in 2020 when news first broke of the Commander's toxic culture as Bezos's agenda was to acquire the Commanders after forcing Snyder out.
The article claims that Snyder has no love for the Washington Post or Bezos and would not consider selling the Commanders to him!