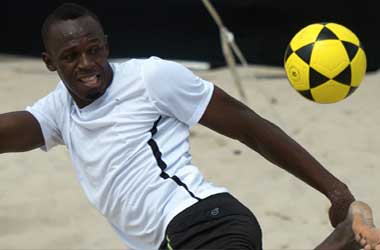 Usain Bolt will always be remembered as the 'World's Fastest Man' as the decorated athlete has had an outstanding career that resulted in world records for the 100m, 200m and 4 x 100m relay.
He is an eleven time World Champion and an 8 time Olympic Champion and is recognized in the athletics community as the greatest sprinter in the history of the sport.
Usain Bolt announced his retirement at the 2017 World Championships and many believed that it would be the last we heard from the Jamaican sprinter regarding his sporting career. Bolt who is passionate about a number of sports is in the prime of his life and he has no desire to sit on a beach and chill out for the rest of his life.
His passion for football and cricket has been documented before and it now appears that Bolt will be pursuing his dream of playing professional football. The Jamaican superstar has had training stints in the past with top Germany football club Borussia Dortmund as well as the Mamelodi Sundowns from South Africa. Bolt is now set to make a move to Australia to play for the Central Coast Mariners in what could be a possible 6 week training camp.
COPA90
Central Coast Mariners Need Funding
Bolt will go through a 6 week training camp with the Central Coast Mariners and if they are impressed with his performance it could result in an A-League contract. Tony Rallis who is a top Football agent in Australia has been in talks with Bolt's manager Ricky Simms and both are on the same page of getting Bolt to do the six week trial.
However if things work out during the 6 week camp, the Central Coast Mariners will have to shell out a lot of money to get Bolt to sign a contract and they will need help from the Football Federation Australia (FFA).
In a statement, Rallis said
We've got a club that's willing to allow him to trial and offer him the contract. We've got an athlete that's prepared to meet the trial criteria and benchmarks. We just need some funding from the FFA to top it up.
FFA has a $3 million budget to spend on marquee players for coming season and one of the players being targeted is Japan's Keisuke Honda who has shown interest in playing for Melbourne Victory.