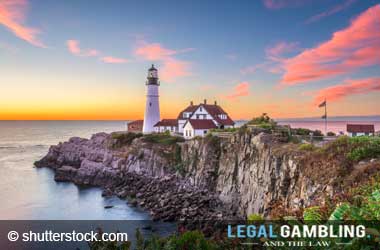 Maine is taking steps to push forward with sports betting legalization as legislators will have to review as many as three sports betting bills.
Gaming experts say that the state could legalize sports betting as early as next year.
As sport betting legalization takes off throughout the US, lawmakers in Maine think the state should get a slice of the action.
Rep. Jeffrey Evangelos, who acts as a sponsor of one of the proposals, said the reason why they want to legalize sports betting is pretty obvious – the practice is now in full swing in many states and they are reaping a number of benefits.
The bill LD1348 sponsored by Evangelos is modelled on New Jersey and would permit individuals over 21 to place bets on both professional and amateur sports at casinos, off-track betting parlors and racetracks. They will also be allowed to wager online. A $30,000 license fee will be imposed, and sports gambling revenue will be taxed 25 percent. Under the proposal, almost all of the revenue will go towards primary education.
The second bill presented in full will set a minimum age limit of 18 years. However, 18-year-olds will only be allowed to do it in off-track betting parlors and brick-in-mortar harness racetracks. Sponsored by Rep. Dustin White, the LD1515 proposal will impose a modest $5,000 licensing fee. The largest portion of the income derived from an 18 percent tax would go to the state's harness racing industry while a portion would be given to primary education and college scholarships.
NEWS CENTER Maine
Lawmakers Disagree on Some Aspects
However, it remains unclear how the state is going to organize its sports betting industry. Lawmakers can't seem to agree on a single path in terms of the gaming taxes the state should impose, as well as how the revenue generated should be used. There is currently no reliable estimation on the extent of the underground gambling market in Maine and hence there is a question market as to whether a legalized sports betting market will have a significant impact.
Some experts have suggested that lawmakers in Maine take a cautious approach and lower their estimates of what they expect a legalized sports betting market to generate. Maine will also have to put in place measures to address a potential increase in problem gambling.
Sen. Louis Luchini, co-chairman of the Legislature's Veterans and Legal Affairs Committee, said the negative effects of gambling expansion cannot be ignored. Luchini, who is also drafting his own sports betting proposal, said gambling bills are always shrouded with controversy. All parties should take the time to study the proposals in order to come up with responsible gambling measures.
To date, only two bills seeking to regulate sports betting have been presented in full in Maine, but there are three other proposals still in the works.