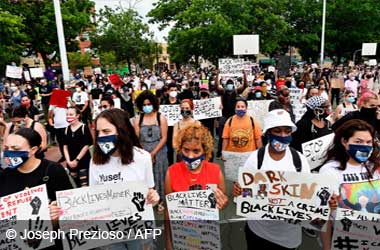 A week after a police officer asphyxiated an African-American man named George Floyd to death by kneeling on the man's neck with his entire weight, a number of prominent athletes have spoken out against the widespread racial inequalities that they say led to the tragic event.
George Floyd's death ignited a series of protests across the US. Some of the most high profile athletes from across the world including Americans from multiple sports are taking to social media to express their disgust.
NBA stars LeBron James and Stephen Curry, as well as basketball legend Michael Jordan, all released statements that made it clear where their sympathies lied.
According to Curry, Floyd's death was a murder, not an accident. Jordan, who has had a long history of avoiding political statements, explicitly called for an end to racism and brutality against colored people in America.
ABC News
They join a chorus of many other voices calling for systemic justice in the sports world, such as Kareem Abdul-Jabbar and Magic Johnson. UFC lightheavy weight champion Jon Jones said the police officer put George Floyd is what MMA fighters would term as a "blood choke" and said that it was worse than drowning.
Tiger Woods Finally Releases Statement
One glaring omission amidst the social media statements issued early on by prominent athletes was Tiger Woods. After more than a week, Woods finally made his presence felt by issuing a bland statement calling for constructive dialogue and warned against violent protests, rioting, and looting.
— Tiger Woods (@TigerWoods) June 2, 2020
Woods' niece, Cheyenne Woods, had already stated that she feels a responsibility to use her platform as a colored golfer to speak out against injustices when she sees them. She already issued her statement on Floyd's death last week.
GolfTV's host and interviewer Henni Zuel noted that golf is one of the most White-dominated sports in the country. Despite having respect for the game and all that it has given her, Zuel says racist behaviors and attitudes are embedded in many of the interactions she has in the sport.
It feels odd to me to talk about anything golf related right now with everything that's going on. So I'll do both, the current climate and golf are not mutually exclusive from my personal experience. Racism in golf may not be obvious or explicitly said, sometimes it has been but

— Henni Zuel (@hennizuel) May 30, 2020
It unfortunately is prevelant and pervasive in its subtlety throughout the golfing world but also I have experienced the beauty of golf, the people in it and the coming together of those people and places. It is a great leveller of a sport like no other.

— Henni Zuel (@hennizuel) May 30, 2020
Floyd Mayweather to Pay for Funeral
A representative of Floyd Mayweather confirmed that he will be paying for Floyd's funeral.
Leonard Ellerbe, Mayweather Promotions CEO, stated that Mayweather had been in contact with Floyd George's family and offered to pay for all funeral expenses. The family reportedly accepted Mayweather's gesture.
Ellerbe said that, despite Mayweather's bad boy image, the five-division world champ has gone out of his way multiple times to help others in the last 20 years but preferred not to disclose any more details on what he was doing to help the family of Floyd George.