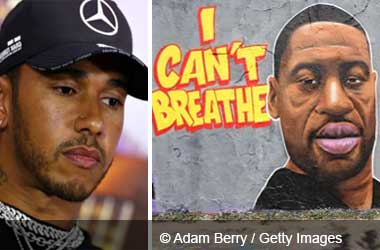 Lewis Hamilton has lashed out at the widespread silence in the Formula One world for what he said was a lack of solidarity with the protests flaring up throughout the United States over a police officer's excessive use of force on George Floyd, an African-American man, resulting in his death.
Hamilton, who is the only current top flight F1 driver of color, has been open about the abuse he has endured in his F1 career for his skin color.
According to Hamilton, it was difficult to ignore that F1 is populated mostly by Caucasians.
The six-time champion posted a message on Instagram (shown below), stating that he supported the peaceful protests calling for justice for Floyd's death, as well as for deeper racial equality.
Hamilton added that the silence from his peers spoke volumes about their fear of alienating F1's fanbase, stating that Floyd's death was not merely an American issue, but a worldwide issue.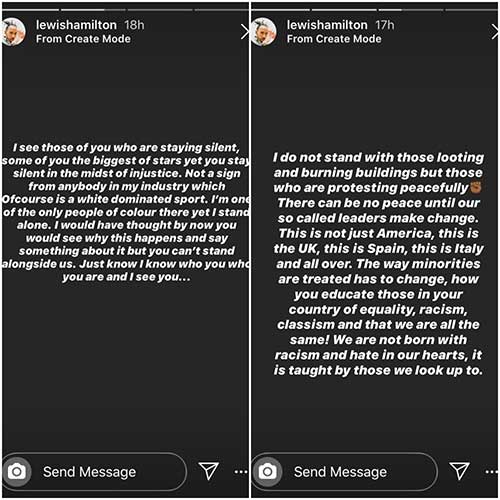 While some protests in America have resulted in riots and property damage, protests in solidarity conducted across Europe have generally been more restrained.
ABC News
Protesters in Cardiff chanted "I can't breathe" which were Floyd's final words as his neck was under pressure from the police officer who was pressing him down with his knee. The protestors were also holding placards that stated the complicity of the UK in widespread racism.
Hamilton stated that racial inequality is a real problem, and that it will take a concerted effort from global leaders to resolve the issue in a meaningful way. He said that racial and ethnic minorities are discriminated against in most developed countries, and that it was their responsibility to speak up against racism in all shapes and forms.
Hamilton's History with Racism
Hamilton is widely considered as one of the finest sportsmen the UK has ever produced. He has not kept secret the history of being jeered at due to his race.
Toto Wolff, Hamilton's Mercedes team manager said that the racist epithets hurled at Hamilton as a child remains with him to this day. According to Wolff, Hamilton grew into a strong, mature human being but has not forgotten his scars. Given his history, it is reasonable for Hamilton to use his elevated platform as a legendary F1 driver to strike a blow against racism and other forms if inequality.
Recently, Hamilton has also made headlines for openly complaining about sports governing bodies who take a softer disciplinary stance against members who engage in racism.