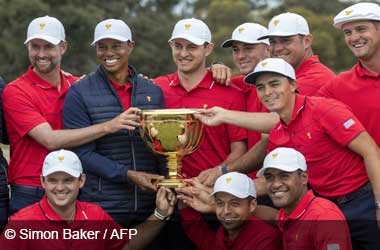 Tiger Woods went 3-0-0 as a playing captain, including a singles victory of Abraham Ancer, leading the United States to a thrilling comeback win over the International team in the 2019 Presidents Cup, held at the Royal Melbourne in Australia.
The United States who were facing a two-point deficit before the final day of the tournament commenced, was able to gain eight points in 12 singles matches to take the lead over the International team and win their eighth Presidents Cup, with a final score of 16-14.
This marks the first time in the event's history that a team overcame a deficit coming into the final day to win.
The 43 year old Tiger Woods, who is already one of the successful players in golf history, won his matches with ease. He took on Abraham Ancer, a formidable rookie who had racked up a 3-0-1 record before their match, Woods went 1-up on the second hole, which he used as a cushion to build a 3-up lead over 15 holes then finished the match in the 16th hole, where Woods hit a 20-footer birdie.
PGA TOUR
The ball was still moving when Woods removed his cap and approached Ancer, who had expressed his desire in an interview to play Woods in a singles match a month ago, so they could exchange sportsmanlike congratulations. Woods later said that he knew that the match was over once the ball reached 6 feet out.
The United States has now amassed daunting record of wins in Presidents Cups. In 12 events, the United States only lost once, in 1998, fielding a squad captained by Jack Nicklaus which then featured a 21-year old Woods.
Woods Adds to Individual Accomplishments
Tiger Woods continues to show the world why he is one of the best golfers in the history of the game. With this win, Woods has now surpassed the record set by Phil Mickelson, and is now the most successful competitor in Presidents Cup history, with a personal record of 27-15-1.
In the 16 holes Woods played, he made seven birdies and three bogies. Over nine appearances, Woods now has two perfect records, in addition to his 5-0 record in 2009. Woods' 3-0 performance this week saw him winning in four-ball and foursomes, take a one-day break, and then win his singles match, where he holds a 7-2 record. His latest win as a captain as well as a player has further cemented Woods' status as the best golfer of all time.