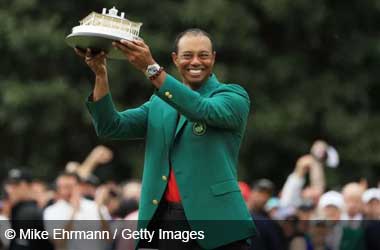 There is a saying in the world of sports that 'form is temporary but class is permanent'. Tiger Woods was a perfect example of this on Sunday when he won the 2019 Masters Championship at the Augusta National.
Tiger Woods had a tremendous run as a young golfer and won his first Masters back in 1997 and collected his first Green Jacket. Woods who started practising golf from a very young age was the most dominant force on the golf course for over a decade.
However, his career took a turn for the worse from 2007 after news broke of a sex scandal that tarnished his reputation and ended his marriage.
Woods also had to battle a series of injuries that threatened to end his career. He never looked the same on the golf course and struggled to maintain his consistency. Many of his critics urged him to retire but Tiger being the champion that he is continued to play on and get better.
Fox News
The 43 year old created history on Sunday night by winning his fifth green jacket. His last Masters Championship was back in 2005. His win was a testament to his commitment, hard work and never-say-die attitude. Tiger enjoyed a nostalgic moment at the Augusta National as he recalled that his father was present for his first win in 1997 and this time around, he had his two kids were present to see him lift the Championship.
Young Golfers Draw Inspiration From Woods
While Woods may not be the best example to youngsters in terms of life outside the golf course, he is certainly inspiring thousands of young golfers around the world. Young men and women taking up golf are spending more time in the gym and working on their physical fitness.
Back in the day, golfers stayed away from the gym and it was only Tiger Woods and Vijay Singh who were committed to the gym. Young golfers have followed in Tiger's footsteps by making the gym a part of their training routine.
In a statement, Woods said
I think that I've driven a lot more youth to the game. Guys are training. They are getting bigger, stronger, faster, more athletic. They are recovering better. They are hitting the ball prodigious distances, and a little bit of that's probably attributed to what I did.