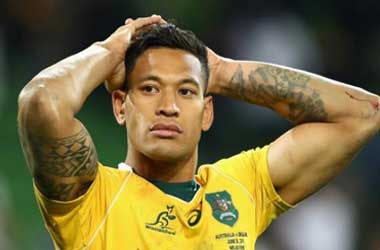 Maria Folau has broken her silence on her husband Israel Folau's divisive transfer to the English Super League, stating that she feels blessed that Israel is finally playing again. Israel needed just six minutes to score a try in his Super League debut in Perpignan, assisting the Catalans Dragons to a victory (36-18) over Castleford.
Home fans in the stadium crowd of almost 9,000 chanted Israel's nickname as he scored a leaping try from a Josh Drinkwater cross kick before being celebrated by his new teammates.
Maria has long kept silent on Israel's woes as he faced down scrutiny over the controversial comments that led to his dismissal from Australian rugby.
Maria stated that she and her family had been nervous about Israel's new career in the Super League, but was happy he was able to get through the first game and play well.
ABC News (Australia)
Reporters flocked to see Israel play his first game after being dropped by Rugby Australia for his inflammatory homophobic comments on social media—his transfer to European rugby has generated controversy concerning whether comments such as Israel's can be allowed in the game.
Israel's first game was marked by some tension from a fan named Alison Grey, a Castleford supporter, who claimed that she was ordered to put away a rainbow flag which is a key symbol of the LGBTQI movement that Israel attacked in his controversial comments. Grey had brought to the game because it was antithetical to the views of the team.
Catalans later released a statement denying that this was the view of the club, and promised they would investigate the incident further. As the match closed, Israel celebrated with the crowd, taking selfies with fans and engaging in conversation with some. No fans harangued Israel or made any derogatory comments toward him.
Israel Folau's Will Continue To Be Opposed In England
Catalans' next match is in England, against Hull, scheduled on March 1. Other clubs' supporters have already pledged to protest Israel's entry into the league. Steve McNamara, Catalans coach, praised his team's composure in the face of media attention focused on Israel. According to McNamara, it was difficult to play and win with that much media scrutiny on the team.
McNamara was unwilling to discuss Israel's signing to the club, stating only that he and the club disagreed with Israel's comments, but disagreed as well with calls to bar Israel from playing the game.