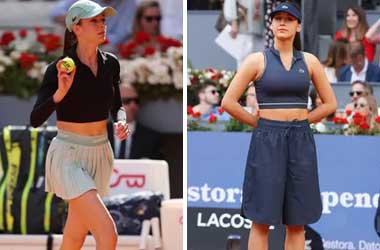 Summary
Madrid Open gets negative publicity due to open sexism of ball girls
Ball girls were dressed in revealing outfits that upset feminists
Madrid Open were quick to make the change and cover up their ball girls
The 2023 Madrid Open has received a lot of attention this week but not for the right reasons.
Tennis players and fans took to social media to criticize the organizers of the Madrid Event for the way they treated women on the court.
Ball Girls Objectified By Wearing Revealing Outfits
The organizers at the Madrid Open decided to dress their ball girls up with pleated, short skirts and crop tops and assign only ball girls to men's matches that were taking place on the main court. Ball boys and younger girls were given traditional outfits and were assigned to matches taking place on the outer courts.
This immediately caught the eye of man fans and feminists who took to social media to criticize tournament organizers for objectifying women by forcing them to wear revealing outfits that feminized women.
Many users had noticed it, but this video – by @Lizzy8E – has delved deeper into the topic. In Madrid, there are two different ball crews, one of which is composed solely of models wearing a different uniform to the other, appearing in big matches only.pic.twitter.com/NcsFFMimOZ

— Relevant Tennis (@RelevantTennis) May 3, 2023
It wasn't just the fans that went after organizers of the Madrid Open. Soledad Murillo, Secretary of State for Equality in Spain also objected to the outfits worn by the ball girls (pictured, left) and said that they clearly discriminated women. The organizers reacted quickly to the criticism and revamped the entire outfit for ball girls during the final which saw them wearing loose pants that covered their knees (pictured, right).
A representative of the Spanish Association for Women in Professional Sport also lashed out at the organizers of the Madrid Open and urged them to change their policies concerning the dress code for women. The representative said this type of behaviour is a type of sexist violence against women as it pushes women to dress a certain way and not men.
This is not the first time that the Madrid Open has been criticized in this regard as tournament organizers also received flak in 2004 for hiring models as ball girls to get more attention.
Madrid Open Silences Women From Speaking
To make matters worse, tournament organizers did not allow the women's double champions from doing a post-match interview and speaking.
Beatriz Haddad Maia and Victoria Azarenka who won the women's doubles final were upset with how they were silenced and received support from top female tennis players including Ons Jabeur who won the 2022 Madrid Open which said this kind of behaviour is unacceptable.
so unfortunate that you were not given a chance to address the crowd and your opponents. This is sad and unacceptable 🤯 https://t.co/XGc7aW0s22

— Ons Jabeur (@Ons_Jabeur) May 7, 2023
With the French Open fast approaching we shall see if they will make any changes to their event in light of issues raised in Madrid.