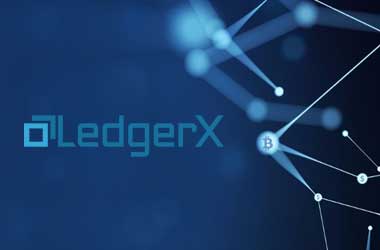 LedgerX has scored a big advantage over its competitors in the bitcoin derivatives market. The US Commodity Futures Trading Commission (CFTC) recently provided the company with an official registration as a designated contract market (DCM). This improves its standing with regulators and will allow the company to offer Bitcoin futures contracts which are physically settled.
There are a number of crypto platforms that have been waiting patiently to be able to offer bitcoin derivatives. LedgerX with this approval has become the first US company to be able to offer bitcoin futures contracts beating out the likes of ErisX, Bakkt, CoinFLEX and Seed CX. This gives the company a major advantage as it will be the first one on the market to launch these bitcoin futures contracts.
Right now, bitcoin futures are already being offered on exchanges run by Cboe Global Markets and CME Group. The difference is that all of these are cash settled which means no cryptocurrency actually changes hands during the transaction.
The difference with what LedgerX will be offering is that all contracts will involve a transfer of the cryptocurrency itself instead of just the cash equivalent. This means that people will get actual bitcoins if they go with LedgerX. This could allow market makers to hedge across multiple exchanges and reduce the chance of manipulation since cash-settled trades are easy to tamper.
A Good Day for Crypto
Crypto experts and supporters were quite happy with the CFTC approval. They think that CFTC's choice to approve LedgerX may soon allow for the long awaited Bitcoin Exchange-Traded Fund (ETF). LedgerX's licenses already allow it to trade and clear bitcoin options so the company will not have to wait very long to launch its new product. The initial aim is to offer to institutional investors. Retail investors have to wait for confirmation if they will be allowed to trade.
Besides the main approval, LedgerX was also granted an exemption from certain CFTC regulations. This is due to its the business model which is fully collateralized. Due to this, the bitcoin options that LedgerX offers does not need to be stress tested for massive defaults because the collateral will be able to handle any short fall.
LedgerX had a goal to be the first crypto platform to use list and clear physically-settled Bitcoin instruments. With this approval, the company is one step close to achieving this goal. They are one step ahead of their main rival, Bakkt who just announced that they would start testing their long awaited Bitcoin futures contracts on July 22.