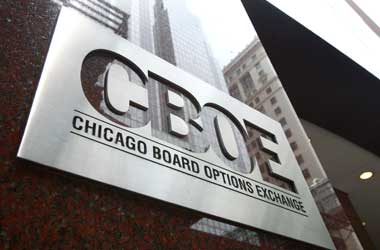 The seemingly reversal in the fortunes of Bitcoin is reflected in the derivatives market as well. Bitcoin futures recorded the highest-ever trading volume in CBOE (Chicago Board Options Exchange), the derivative exchange which introduced Bitcoin futures early December in US. It can be remembered that soon after Bitcoin futures trading was launched, the servers broke down at that time due to huge inflow of traffic.
According to the CBOE data, a total of 19,000 bitcoin futures contracts, with different expiry dates were traded on CBOE on Wednesday. In particular, 18,210 Bitcoin futures contract with nearby (May) expiry were traded. Additionally, 703 Bitcoin futures contracts with June expiry date and 87 Bitcoin futures contracts with a July expiry date were traded as well. No contracts expiring in August were traded on Wednesday. The increase was gradual. On Monday, a total of 3,881 contracts was traded. The volume increased to 6,653 contracts the next day. This was followed by the record-breaking trading volume on Wednesday.
The volume traded on Wednesday was thrice the average daily trading volume of 6,600 (XBT) Bitcoin futures contracts. An increase in liquidity usually tightens the spread, leading to better price discovery.
Wednesday's traded volume broke the previous record of 15,500 Bitcoin futures contracts traded on January 17. Bitcoin started sliding soon after futures trading began in CBOE. The first contract settled at $10,900, giving a pile of cash for short-sellers. The reverse may happen this month.
CME (Chicago Mercantile Exchange), which also offers Bitcoin futures contracts, saw the trading volume double to about 11,000 contracts on Tuesday.
The increase in the trading activity indicates that investors and traders in other financial markets are gradually turning towards cryptocurrencies. A recent report indicates that as many as 56 funds could enter into the cryptocurrency market in the months ahead.