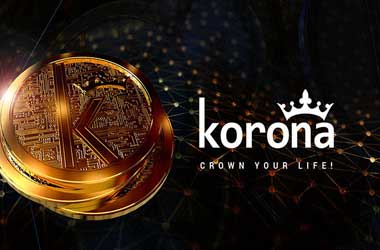 Korona, a crypto coin which functions on the Lightning Network was launched last week in Budapest, Hungary. The Hungarian developers claim that Korona offers better security and is cheaper than its competitors.
A recent study by Cambridge Judge Business School confirmed that customers are increasingly adopting new forms of payments for cost efficiency reasons. Further, the study states 86% of surveyed payment companies use Bitcoin as the main payment method for cross-border transactions. However, Bitcoin faces issues in terms of transaction times, scalability, and flexibility to build smart contracts on its system.
Therefore, Korona developers believe that there is an enormous global potential for a rapid, second crypto economic boom.
Korona's plan
The Swiss-based company's crypto currency Korona will full comply with European rules and regulations. Korona tokens (ERC20) will be available widely in Europe for purchasing goods and services. The lightning based solutions will facilitate quick e-commerce and smartphone payments.
Korona Ecosystem will offer complete integrated service packages for private and business customers. Users shall be provided with easy-to-use, transparent and licensed platforms that fulfill their complex needs such as wallet management, efficient payment technology, and also Fiat exchange. Additionally, users will receive supporting services like taxation information support, client protection, commercial guarantees, as well as marketing or even market access support.
The platform shall also provide attempting and marketable goods and services for purchases either online, or in real stores every day. Finally, it shall provide valuable financial benefits in the form of cost and price reductions, and also in the form of rewards after either spending or accepting tokens. These features shall make Korona tokens widely accepted and valuable.
The Korona Coin wallet can be downloaded for Windows, Linux and MacOs. The wallet can be used to receive or spend tokens. Accounts can hold and send Korona Coins, as well as Etherum.
Jean-Marc Stiegemeier, Korona's CEO, said
"Banking as we know it today will eventually evolve into different platforms. We started this project because we saw the opportunity to take crypto currency technology into the future."
Stiegemeier is confident that in a decade crypto currency will be used and accepted worldwide.
Korona Token details:
Korona's ICO commences in another 33 days.
Total number of tokens: 300.000.000 (300 hundred million)
Distribution:
• ICO – 40%
• Team and advisors – 12%
• Flexibility mechanism – 10%
• Korona Early Bird Merchants Reward – 5%
• Bounty program – 3%
• Post ICO token distribution – 30%
Korona is offered at a 25% discount during pre-sale.