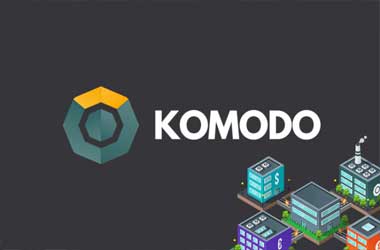 Komodo (KMD), a fork of Zcash, has announced that it has successfully tested the first scalable atomic swap solution. Atomic swaps, or atomic cross-chain trading, is the exchange of one crypto currency to another crypto currency, without the need to trust a third-party. Atomic cross-chain trading is looking to revolutionize the way in which users transact with each other.
About Komodo? is focused on empowering two types of users: the blockchain entrepreneur, and the average cryptocurrency investor. Komodo provides a unique and innovative form of security that is as strong as the Bitcoin network, yet does not require the incredible cost. Komodo's form of providing security is called Delayed Proof of Work technology (dPoW) . It builds on the most advanced form of blockchain security in existence, Proof of Work technology (PoW). The latter form of security is the method that the Bitcoin network utilizes.
For the entrepreneur, Komodo offers a simple and easy way to create their own block chain and ICO's. The platform offers privacy, security, and speed. Therefore developer's can save considerable time and focus on their core ideas. Komodo's decentralized exchange enables the release of new products to the world without middleman involvement. Furthermore, even entrepreneurs who have previously built other block chain projects outside our ecosystem can easily feature their coin on Komodo's decentralized exchange. The platform also allows the entrepreneur to release their product, and to crowd source funds, from an audience that may prefer to maintain their privacy.
Investors can trade crypto currencies without having to pass through a centralized exchange, which can be an arduous and even dangerous process. They also do not have to use an escrow service, voucher, nor even an intermediary coin—not even Bitcoin. Furthermore, there is no registration process required, nor are there any withdrawal limits. Komodo currently features approximately one hundred block chain coins for trading, and we are prepared to scale into the thousands.
Komodo's test: Cross-chain atomic-swap technology is a concept put forward by Tier Nolan back in 2013. Komodo's lead developer, jl777, demonstrated the team's first atomic swap in 2014.
To make trading convenient as it is on any popular exchange, there was a need to integrate Electrum server infrastructure into the Komodo DEX technology. That removes the need to download a block chain when trading.
With Komodo's lightweight atomic-swap technology in place, the community was able to begin a more rapid pace of adoption. In 2017, volunteers in Komodo community performed 15,000 atomic swaps on their decentralized exchange.
Finally, Komodo had to show that when "cluster" of users trading on BarterDEX gets overcrowded, users can create a new "cluster" and continue trading. The last weekend, Komodo demonstrated by taking one trading cluster to maximum trading capacity, allowing the developers to see its limitations and iron out any issues in the code.
Komodo is happy to announce that the technology to branch out each cluster individually is now in place. Komodo developers used the results of maxing out one cluster to optimize the back end code for each cluster. Komodo also stated that the full back end package of Komodo is online.
World's First #Scalable Atomic Swap Solution. #Komodo #Atomicswap #dPoW #blockchain #BarterDEX #Scalabilityhttps://t.co/3vDPF0OClQ

— Komodo (@KomodoPlatform) February 11, 2018
Komodo has also published the test results in their transparency report. The whole test was public, allowing anyone to attend. Each participant received 'BEER' tokens (test token), which were swapped for actual KMD. On average it took about 4 minutes for each swap to complete.
With this facility, it is possible for anyone to start trading atomically. Komodo's next and final step is to make the trading as convenient as on any normal exchange.